I know, I know. I cant help myself. Its just it was going sooooo cheap. Even with the fuel for collection its one of the cheapest camera deals….. ever!
Let me introduce you to a Hunter Penrose Ltd Process Camera. It is huge. The ground glass measure 18.5 x 16 inches. With very little tinkering this is going to make a great studio wet plate camera. Its surprising what one can find on Feepay nowadays.
I pick it up this week before I pop off to NY. I'll leave it in the studio for John to play with while I'm away. If he's feeling adventurous he might like to make a silver bath so we can shoot plates this size… hint hint nudge nudge.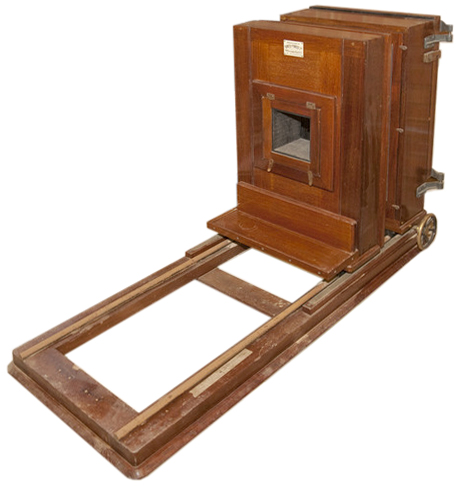 The white masking tape is A4. Gives you an idea of what plate size might be achievable.

I'm assured that when extended the bellows are in excellent condition.

Comes with a plate holder thats adapted for film at the moment but thats apparently just a glass plate to wedge the film against, similar to when we shoot tintypes.

These metal parts inside the rear are for holding the original plates and measure 16×13.5 inches. These can be removed. It even comes with a Ross-London Homocentric f10 lens.

More pics to follow after I've picked it up, oh, and told Steph I've bought another camera….