I've just got home from a visit to the Museum of Science and Industry in Manchester.
It was at the MHF that someone visiting my stall mentioned the collection of photographic equipment held at the museum and that I should go take a look.
So I did.
Did you know that Mosi has a Collections Centre where the public can arrange to view smaller museum items up close and hands on. Nope, I didn't either. MMU has a similar set up with its Special Collections.
I'd emailed the Curator of Science, Catherine Rushmore, a few days earlier and provided a list of items that I found of interest and would love to take a look at. I'd like to say thank you to Catherine for being very accommodating and patient with my requests, as I got her to unlock drawer after drawer of photographic goodies.
I was particularly interested in any item made by Joshua Billcliff of Manchester, the maker of my 12×15 camera, the only other online blog reference I could find was by an American photographer Bill Wolf. His blog.
Here are some of the cameras that caught my eye, there were a few others that were still on display, including some Billcliffs, Carte de visite and a 12×15 camera. These will be available in a few months time, so I'll be going back for another look.
First was a "Royalty" Stereocamera by Billcliff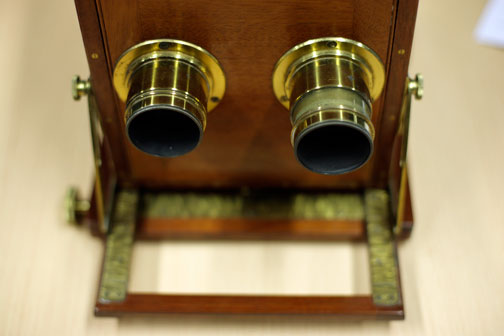 From Mosi website:
Royalty' bellows plate camera made by Joshua Billcliffe of Manchester in around 1895. Joshua Billcliff ran one of the few camera-making businesses outside London in the nineteenth century. In 1847, he rented a shop on Stretford Road, Hulme, as a wholesale provisions merchant, and carried out general joinery work in the back yard. In 1860, he started making boxes for textile and printing cameras. Soon, local photographers placed orders for cameras with him, including Lafosse, James Mudd and J.B. Dancer. Having moved from place to place, Billcliff settled in premises in Richmond Street, Hulme in 1882. By 1890, the business was known as Billcliff & Sons and as the Manchester Photographic Apparatus Manufactory. His sons took over on his death and adopted their final trading name of Billcliff's Camera Works in around 1907, appearing in the British Journal of Photography directories under this name until the mid-1950s.
Half plate, there was no septum in the bellows and it has two Ross lenses with a sliding focus.
Two lovely quarter plate cameras…
One by Chapman.

One by Furnivel

Mosi:
Bellows plate camera with changing back, double dark slides, other lenses and a set of Waterhouse stops, made by James Furnivel of Ardwick Green, Manchester, in around 1890. Furnivel set up in business as a clock case maker in 1857. He became friendly with J. B. Dancer and began making the case for his stereoscopic cameras. Later Furnivel concentrated on camera case making, usually for other companies. This one is on loan to the Museum by the Manchester Microscopical and Natural History Society.
There were these two rough looking studio cameras in one case that weren't on my list, Catherine kindly let me take a look. One was definitely a Billcliff as it had the rotating back similar to my 12×15. What was of interest really was one had a Dallmeyer 3D and the other a 3A. I pointed out their collect-ability. Both were in very good condition optically.
There were a few sliding repeater backs in the drawers, its very likely that they fit these cameras.
A couple of Chapman Stereo box cameras that I've not seen before.
From Mosi:
Box plate stereoscopic camera, fitted with three lenses for binocular or monocular use, made by Joshua Billcliffe of Manchester in around 1890. It was retailed by Josiah T Chapman, who was one of the first photographic dealers in Manchester. He established his business in 1874 and designed several cameras aimed at a moderately priced amateur market, which were made by Scott or Billcliffe.
>

A Lancaster Stereoscopic camera…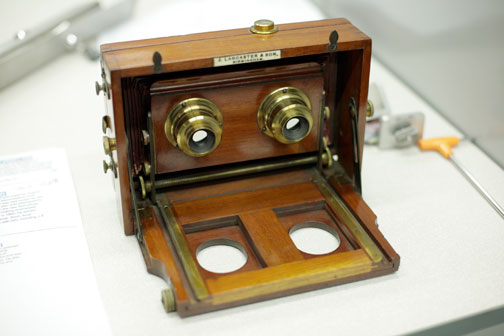 Two of the sliding box cameras I wanted to see were still on display but these two were in another drawer in the store.
J.D.Payne of Manchester camera…1/4 plate?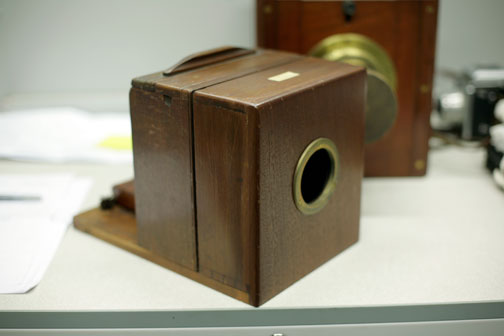 Chapman of Deansgate Manchester…1/2 plate

And last but not least, this oddity which threw me a bit. I thought it was going to be a tailboard camera when I began opening it but it wasn't, the design is quite common but its back to front if you see what I mean. Made by J.L. Lane of London for Chapman of Manchester.

The majority of these cameras had their plate holders present along with a multitude of accessories and lenses in the drawers. I'd love to go again and go through each drawer one by one. Maybe I'm becoming a bit of a nerd in my old age.