I first met Peter Defty following some correspondence regarding our process cameras. He's a talented and experienced photographer. Not only does he shoot with his Little John process camera he now shoots with this amazing 14×17 Deardorff…
Today he popped into the studio to put a couple of sheets of film though it. He shot two sheets of 14×17 film of yours truly posing with my Hunter Penrose camera. Can't wait to see how they turn out. Check out some of Peters work on his website.
Unfortunately the only camera gear I had at the studio was the old box brownie. Chems were at home also, so had to squeeze the dregs out of an old collodion bottle, and luckily John had mixed a fresh batch of dev. So its only fair to reciprocate…. heres f8 for 30 plus seconds and pushed development with the Kodak Brownie. Always amazes me how wide this lens is…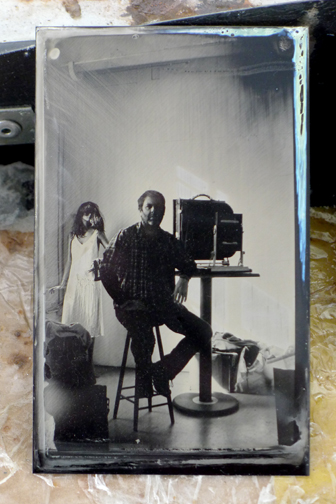 A couple of weeks ago I visited Peter at Slaughterhouse Studios in Salford. He was shooting large scale portraits on his Little John process camera. I'd gone along to get a quick digi snap of him with it for a blog post I'm doing about users of Process cameras. I'd not been to Slaughterhouse Studios before, what a great set up and Sid and Ian were very welcoming. They have a great daylight studio on the top floor that looks like it would be great for wet plate shoots.
Heres a quick look at some small prints of the film Peter shot that day of me….apparently I look like a demented butcher?

Peter mentioned he has a brand new 5×4 / 5×7 Deardorff camera for sale. Contact him directly via his website or drop me a line and I'll put you in touch with him.