Did I mention it was hot…
Okay I think theres something to this jet lag thingy. After that looong flight yesterday we found ourselves at the Met at 9am???
In the UK we are just plain spoilt. A recommended $25 per person entry fee. That is only recommended, you could pay just 1$ but still! $25. We're so lucky in the UK to get free entry to our museums. Lets just say Steph and I got our moneys worth and we nowhere near got to see all the rooms. They started kicking people out towards 5.30….
Its a bit weird at the Met. They have all the arty stuff and all the history/ethnographic stuff all in the same vast building.
Now I'm not one for shooting digi snaps left right and centre so I just thought I'd add some things I found of interest. Everything else can be found on other peoples flickr accounts and blogs I'm sure.
One piece I found I really liked, I'd dismissed when I first walked into the room. Thats was a work by Clinton De Menezes. "Procession (Exodus) 2008-2010". At first I'd ignored it but on closer inspection there were hundreds of little figures stuck in place. You can read more about his work here… www.clintondemenezes.com
Then there was this piece by Mark Tansey, "The Innocent Eye Test, 1981" Apparently this painting has been interpreted by many as a not-so-veiled commentary on art critics.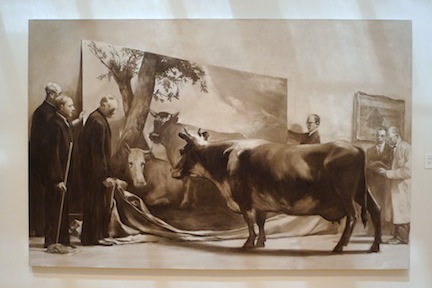 And this piece by Chuck Close, "Mark". From a distance you could mistake this for a photograph or photorealistic pairing but up close the detail is amazing especially as its air-brushed in multiple layers.
There was a small selection of photographic work on show in different areas. Some historic pieces I found of interest was one by Charles Lutwidge Dodgson, better known as Lewis Carroll, with the collodion lifting around the edges to make a frame of the remaining image.
And this by an unknown French artist, ca. 1856. A salt paper print from a glass negative.
From the accompanying text panel:
"…More unusually, the images are interrupted by a surface pattern that gives the impression that the photographs are printed on finely pleated silk rather than paper – likely the result of a technical error. Instead of wiping clean his glass plate negatives and starting over as virtually all other photographers would have done, this artist recognised that the pattern created a veil that, like time or memory, removed the images from their merely utilitarian purpose and elevated them from the mundane to the realm of art"
Make of that what you will, but it made a change to see a historic print like this, especially as it shows issues with wet plate that are brought up on todays wet plate forums online.