Its been a few weeks since the wetplate workshop. And this weekend I had a go at my first solo wetplates.
Having everything I needed to get going I set up my darkroom in the back yard, well I say darkroom, its a 1x1x2 metre hydroponic tent. A couple of diy workbenches and a bucket. I'd got together everything else I thought I could possibly need and after a few moments of worrying about what I must have forgotten I bit the bullet and poured my first plate………

This was the best of the batch! How disappointed was I? Obviously there was a major leak somewhere. It was cloudy, subject in the shade. Exposure of around 12 seconds. To top it all off the heavens opened and down came the rain.
Next day armed with a major roll of gaffer tape I sealed up every possible source of light leak in the tent, double checked the camera and holder for any problems and had another go.
After a test plate, it seems that the tent was the problem and now at least I was getting some proper plates although getting the exposure correct was the biggest problem. I was quite pleased with my collodion and dev pours etc.
The best of the bunch was this one, although I was now getting a small bit of fogging at the bottom but I'd noticed a spot where the tape had become unstuck and was letting a bit of light through by the water bucket for stopping development.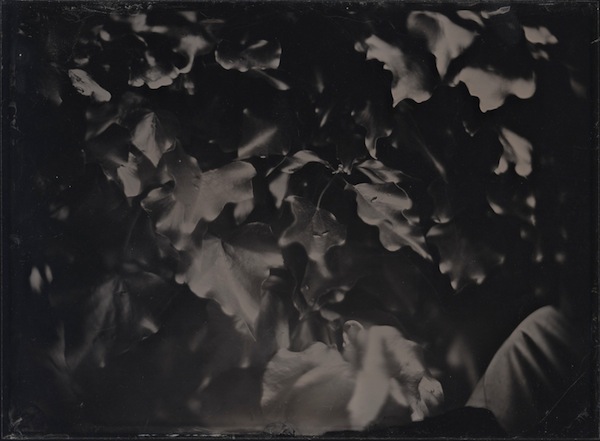 The weekend was brought to a sudden halt with a deluge of water Noah would have been ready for, but not me.
So after two days of cursing and shouting at some glass plates like some madman in a dark tent in the back yard I think I was finally getting somewhere. Roll on next attempt and we can see what else can go wrong.