The Bromoil Circle of Great Britain was formed in 1931 by Sam Weller FRPS and brought together leading practitioners of the Bromoil process, many of whom were – and are – members of the RPS. The Circle has recently deposited its archive of more than 600 Bromoil prints from former members and contemporary practitioners with the RPS in Bristol.
On Sunday, I attended an event at the RPS, where they were displaying some of the archive along with a demonstration and workshop led by Circle President, Ken Hill ARPS. The possibility of observing the inking of a Bromoil print by someone with so much experience should not be missed.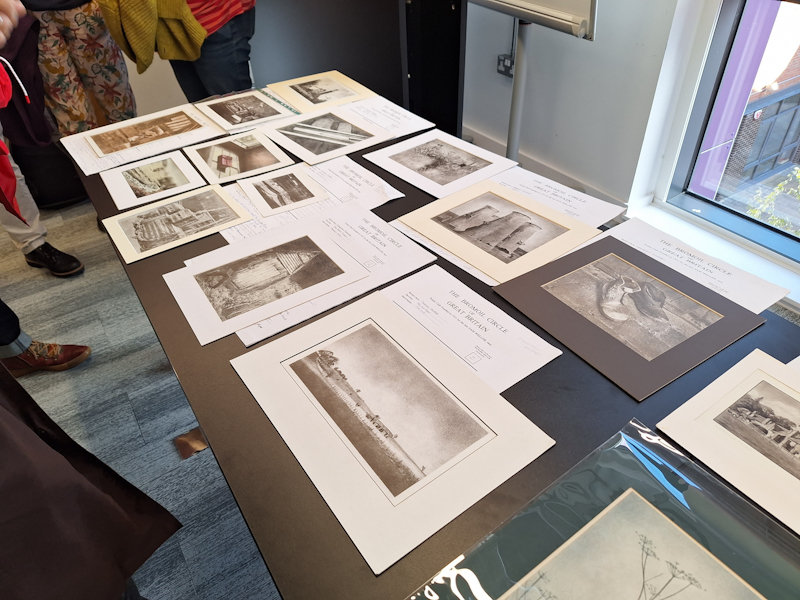 The display was a digital presentation but additionally and thankfully archive boxes of Bromoil prints were available in the workshop area on the second floor.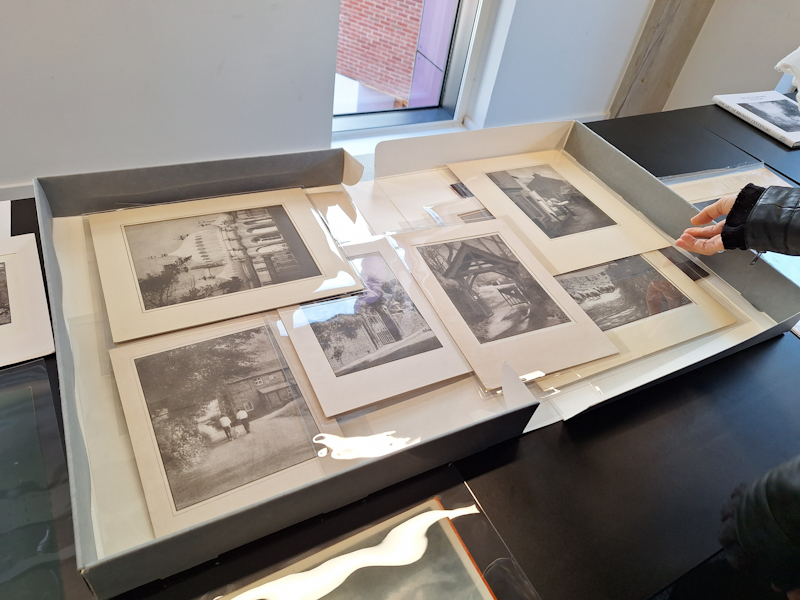 Ken had also brought along a selection of his own work to show what can be achieved with the process including the addition of mountain, clouds and moons that didn't exist in the original.
Two different prints from the same negative by Ken Hill.
And this print in the archive looked very familiar. The notes on the reverse reveal it is by TWE Wilson from 1982.  Titled "Twos Company". I have a framed Bromoil print in my collection also by Wilson from 1984 titled "Three Trees". I also appreciated the processing notes and formula on the reverse.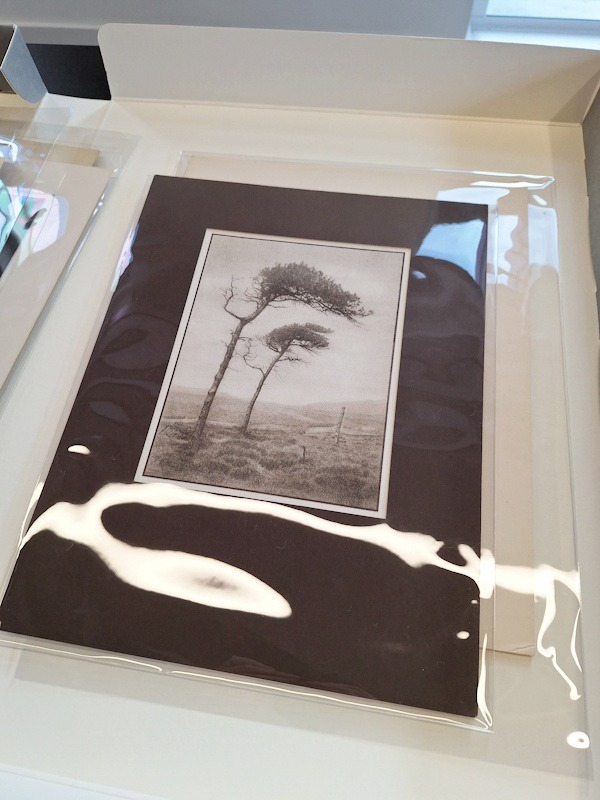 Here's my TWE Shipley Bromoil print from 1984… image lifted from my Instagram sorry.
Ken first demonstrated the soaking and inking of a pre-prepared Bromoil matrix. He discussed the use of certain paper developers, fixers and bleach/tan recipes, along with different inks and brushes.
Choice of paper was of course one that ken had been using for decades and still had a plentiful stock of. The challenge for the new Bromoil practitioner is to find a stock of Bromoil friendly paper, or look into coating their own paper or try a different process like the Rawlins Oil process. Luckily I have a stash of paper that should still work…. maybe.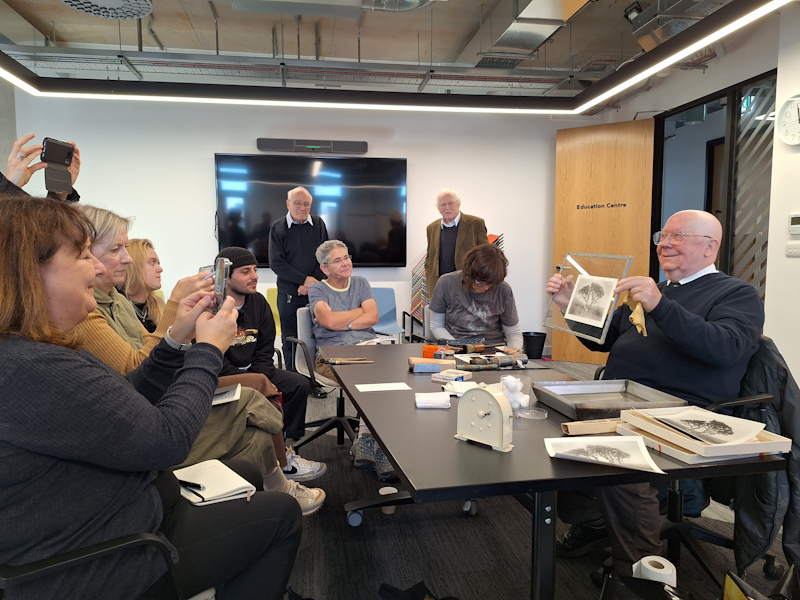 The basic tools needed for Bromoil printing. The matrix (the bleached and tanned print), chamois and cloths, blotting paper, Perspex/glass base, an inking tile and brush, a tray of soak water. And plenty of patience.
The Bromoil matrix, this is how the original silver gelatine photograph looks after bleaching and tanning. This is pre water soak and dry, note the curled nature of the paper. The soak time for Kens established workflow was only 3 minutes. The prints had been bleached/tanned before hand to save on time, Ken provided details and recipes.
First inking with a basic stag foot brush with Intaglio 196 ink thinned slightly with one small drop of artists turpentine. The paper took the ink easily.
Further inking and brush pounding to transfer the ink from highlights to shadows. As the paper dries more ink can be accepted to the highlight areas, there's always the risk of the print becoming "muddy" from overworking. Then back into the soak water to clear those highlights further.
Moo Pa under the watchful instruction of Ken during the further inking stage. The paper would allow several soaking as the paper emulsion dried out. These were then dried with blotting paper rather than the chamois as this particular paper doesn't take well to wiping.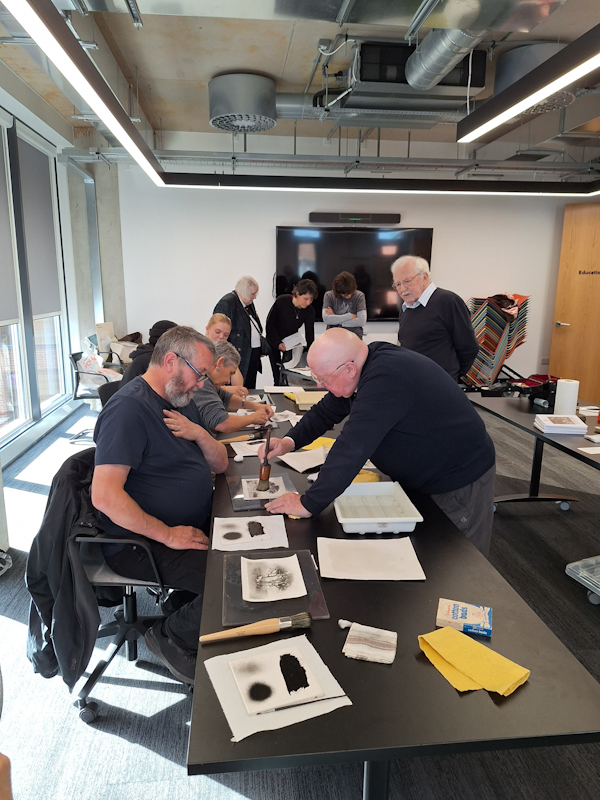 Unsurprisingly, everyone's print was different, even though it was the same initial photograph from the same negative. That's the wonder of Bromoil and I can appreciate its not everyone's cup of tea. Here edges are being cleaned with a cotton wool ball and water.
My attempt was different again, as I was interested in the removal of ink from certain areas, using water and cotton wool buds/balls. Then the touching up again with ink and a very small brush. There was also an emphasis on "burning in" or darkening the corners, a method that's still taught in most darkrooms and very much a print competition sort of thing for old school methods of darkroom printing.
So a very enjoyable day, Ken and the other Circle members attending were good enough to suggest some hints and tips that they each use, and some that are frowned upon by others. Isn't that the same in every process?

Granted we were following Kens very established workflow, and everything worked as it should with wonderful results. What happens when you set up and have a go yourself is probably exactly the same as with those that shoot wet plate collodion. Utter despair, but with practice, luck and a little more practice I'm sure in another 40 years we might be catching up with Ken and the rest of the Bromoil Circle.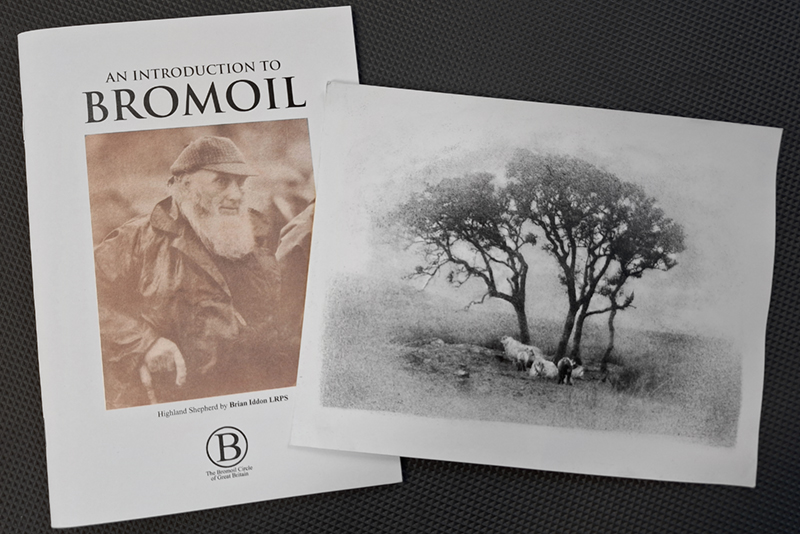 Thank you to Ken, (I could have listened to him all day, but I'm biased as his Welsh lilt brought fond memories of home) and The Bromoil Circle of Great Britain and thank you to Michael Pritchard and the Royal Photographic Society for organising the event. It was very much appreciated by all.

There are now a growing number of Bromoil practitioners struggling with sourcing suitable papers and inks, and with lessening access to certain chemicals, and now looking for alternatives. There is an active Facebook group called Bromoil and Oil if anyone's interested? And there are the beginnings of discussions about a workshop/meet up group for May next year.

Note: I just checked. My first dabbling with Bromoil is eight years ago, I keep coming back to it, this time I'd determined to get further.
Here's some links to my past failures and partial successes.