I've been trying to stay away from digi negs for the past couple of years, preferring to make prints from plates, especially now from wet plate negatives but there are times when this just isn't possible and a digi neg would be the better way to go about it.
So here I am on a Bank Holiday weekend sitting in the studio with laptop, printer, scanner and a load of Colourbyte PosiPrint Screen Film. Thanks Mark for the link.
Took me a while to get the ChartThrob jsx file to work on my macbook air, wrong version of Photoshop apparently, it just didnt want to read the file as a jsx file. So I managed to dvd share my Photoshop CS5 from my imac to my laptop and its now all working fine.
I've used ChartThrob before but for making an adjustment curve for digi wet plates from the screen. That worked just fine for sorting the contrast issues.
So, firstly Cyanotypes…
Single coated with a foam brush onto Daler Rowney Fine Grain Heavyweight paper.
A test 20 minutes which at first doesn't look too bad apart from hardly highlight detail…
and then at 40 minute exposure to try and get some highlight detail but at the expense of the shadows…
And with the ChartThrob curve applied…
and the curve…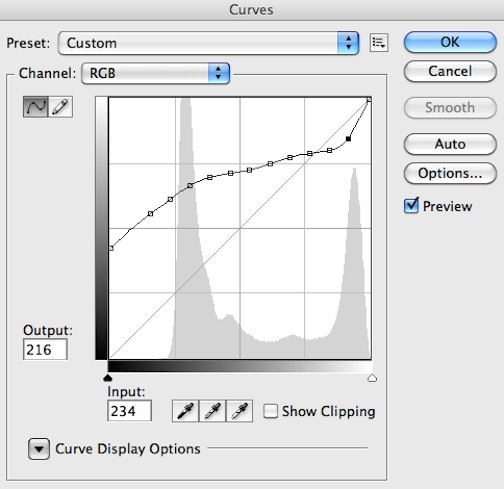 All prints with the UV face tanning unit at 12 inches away from contact frame. I was surprised the exposure was so long! And with the Adjustment curve applied it seems to need even more!!
My cyanos with glass plates tend to be 12 – 15 minutes only.
First wash with 2ml of acetic acid in 1000ml H20 followed by a 10 minute running water wash. Then Hydrogen Peroxide 2ml in 500ml H20 and washed again.
I'll print some cyanotypes from a variety of images with and without the curve applied to see the difference.
I hope that someone can give me some feedback on the resultant printed chart as I'm not 100% convinced.
Then its Van Dyke Brown for the ChartThrob treatment!