Heres a cyanotype, Van Dyke Brown and a green tea toned cyanotype print. These were printed from a clear glass ambrotype I had laying around the studio.
In the past I've printed using acetate sheet as digital negatives via an inkjet printer with great results.
Today I wanted to make a print as a sort of congratulations gift for Stephs sister, Vicky, who recently gave birth to her first child, Eloise.
One of Vickys friends, Kristine, posted some fantastic photographs on FaceBook that I thought would make great prints. Not sure if Kristine is a photographer or not but she shot some great images of Vicky and Eloise.
Now, my printer and scanner I keep at home, so printing step wedges and making prints to scan and make digital adjustment curves can be a bit drawn out, unless I take all the gear to the studio. Also theres the challenge of finding an easily accessible inkjet acetate and ink supply levels etc. It all gets a bit involved. Then I kicked myself, what was I thinking, the images are already on the laptop. Just shoot a wet plate digitype! Instant negative at the size you want!
Heres my set up at the studio. Nowt elaborate. Two strips of black card top and bottom to crop out the laptop edges.

A test exposure plate of 30 and 60 seconds at f4.5, quarter plate clear glass ambrotype.

Cyanotype straight out of the wash. I then popped it into a diluted Hydrogen Peroxide bath and wash again for that instant deep blue.

More tea Vicar? Two green tea bags brewing.

Toning took about 20 minutes. I also bleached one print with weak "washing soda" and brush on the faces.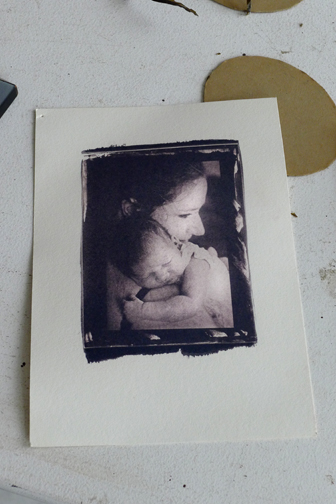 An antique ebonised frame I had in the studio.

And one I mounted and framed for the In Laws.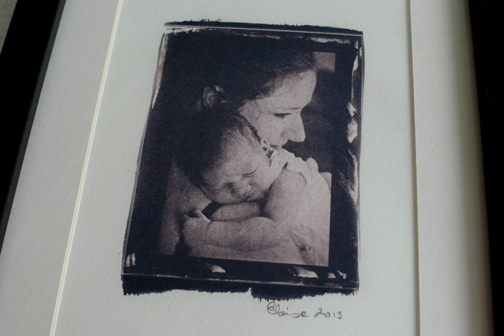 I really like these tea toned cyanotypes. A lovely deep Eggplant colour. I'll try a full bleach before toning next time to see if I can get a deeper darker colour.