""I have reserved for the last, notice of what is an exhibit perhaps the most interesting of any, because it is quite new. The exhibitor is A.H. Mizuno, of Yokohama, and what is shown is a series of photographs in gold on dark coloured lacquer. The intention is to produce, photographically, the equivalent of hand-done pictorial work in gold in lacquer, one of the fine arts in which Japan far excels any other country in the world. The effect, considered decoratively, is very pleasing. The process has, as yet, been kept secret."
– Professor W.K. Burton in an article in the Photographic Times of New York." (link)
I saw my first example of Mizuno's work at Manchester Metropolitan University Special Collections, I was digitising it as part of a project. I always thought it was a little unusual but didn't think much of it at the time. Their version was incorporated into the front cover of a photo album of Japanese albumen prints.
A couple of years later I was at a Photo History conference in Leicester where I met Celio Barreto. He has an interest in Japanese photography and especially the work of Mizuno. I think he was pleasantly surprised I knew of the process and that had seen an unknown example. I put him in touch with the curatorial staff at MMU.

Now, severeral years later, Steph pointed out two items for sale at a local auction house. They looked very much like the style of Mizuno work, so we took a gamble and left a cheeky bid. Surprisingly or maybe unsurprisingly, there were no other bids!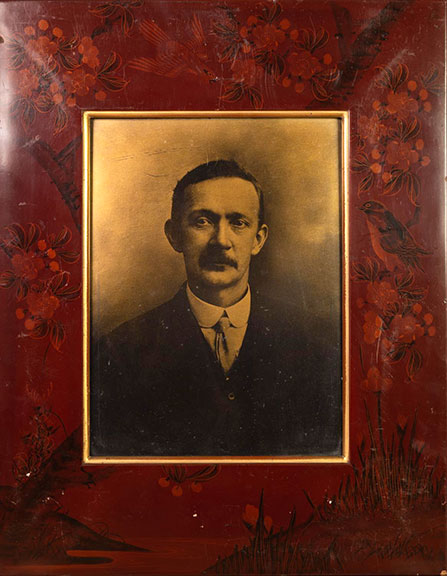 Two portraits on wooden panels in lacquered frames. The image panel area is 8 x 10 1/2 inches. There are no labels or makers marks to the reverse, but there are the distinctive wave marks in the lacquer as seen in other examples.
There arent many examples online, and further reading suggests that they are quite rare. Those available either being Japanese landscapes or portraits of non Japanese sitters.
Do take a look at this excellent site that covers Mizuno's work very well.
As I mentioned, they aren't everyones cup ot tea but I'm delighted to add these to my collection. Well spotted Steph, thanks.