Lianne is a post grad photographer from Newport who had contacted me about a tintype tutorial. I like to get people to shoot a few glass plates as well, as I think its a good skill to have. Lianne soon agreed.
She had taken a very early train to Manchester and by 6pm she was just about done in. I've invited her back for another session as I appreciate a one day session on wet plate can be pretty full on. Maybe I'll start offering a second day if needed.
Here are two half plate tintypes she made. Initially her collodion and dev pours were a little "entertaining" but she soon got the hang of it. Her varnish pours were a lot better.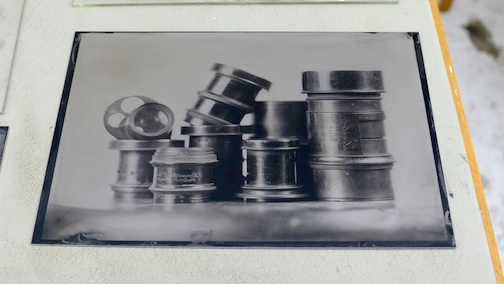 Lianne was interested in using her Mamiya Super 23 camera for wet plate but wasn't too hopeful, its not a camera I'm familiar with but now I'm hooked.
Heres a Mamiya Super 23…
Its a weird looking thing but these 6×9 cm plates have a real nice look to them, and the 50mm lens that she had was surprisingly super wide.
It even had a ground glass screen accessory… wonder if theres a version without the rangefinder section.
6×9 cm tintypes… 2 minutes at f8 with bounced Interfit lights

6×9 ambrotype (quickly inverted on mac)

I'm looking forward to seeing what she does with wet plate as she had mentioned a couple of great sounding projects she had in mind.