I've just returned from a wonderful workshop at Lux Darkrooms in London. Photopolymer Printing taught by Peter Moseley.
I've been wanting to give this process another go after last years failed workshop at Hot Bed Press. I continued to look for another workshop provider after additional encouragement from Keith Taylor.
The workshop at Lux Darkroom was more than I could have hoped for. As soon as I saw the quality of prints produced by Peter and Constanza Isaza (Joint owner of Lux with Andrés Pantoja) I knew that this printing process was something special.
The two days were broken up with just the right ammount of theory combined with hands on printing.
Peter discussing digital negatives and plate making.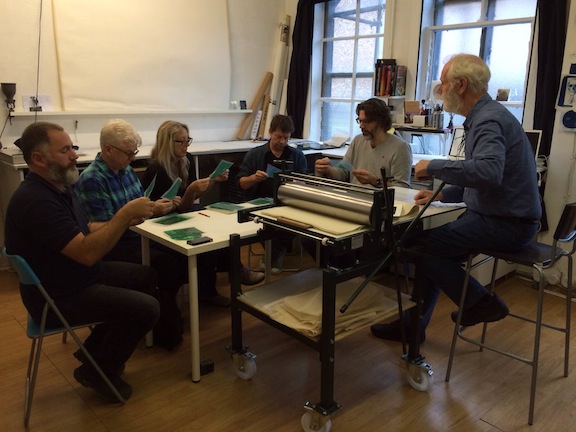 Our first inking up…
My first photopolymer plate for inking from a 5×7 black glass ambrotype.
All inked up…
And my first ever prints! Amazing.
There's quite a few similarities with wet plate, its very tactile.
My second plate from a whole plate ambrotype.
Even just inked up the plates are artworks in themselves.
The print.
There were several types of paper to work with and a number of coloured inks. Various inking and wiping techniques were discussed, along with several little hints and tricks.
Neal knocked out some great plates from the off.
Mark with one of his amazing landscapes.
Charlie and his adventurous use of colour.
And Jo with her stunning portraits.
At the end of two days I think I had about 18 prints. I can't show the third plate as it was a still from the Limehouse Golem movie that I'm currently working on. It is one of my favourite plates that I have ever shot. You'll just have to wait to see that one….
I can thoroughly recommend this workshop. Constanza and Andres are very friendly and knowledgable. And alongside experts like Peter they have an excellent set up for the enthusiast and the professional.
Thank you Peter, Constanza and Andrés. I'm hooked.
Additional digital images with kind permission by Andrés Pantoja.