It seems theres still a few of these large process cameras out there. Heres a few people that I've been in touch with the last few months.
Rajesh is an artist who belongs to a family of traditional photographers and photo-hand colourists associated with the Royal Court of the Maharaja Bhopal Singh of Mewar. He contacted me after searching for info on the HP camera, he still has his Grandfathers 20×24 camera.

Rajesh (left) and his brother with their Grandfathers camera.
Peters camera is currently on loan to the Plymouth School of Art, it has been used by students to shoot paper and film negatives. Some of those students have gone on to build their own ultra large format cameras.
Peter saved his 20×24 camera from a printers in Exeter where they were about to put a sledge hammer to it!
"Apparently this camera has been around the uni for 10 years and no one ever bothered to see what they could do with it. We have asked around the photography department and no one seems to even know how it got here. Its completely weird but completely amazing that we have the chance to use such a camera. Id say there are only a few of these sorts of cameras left in the world and even less in Australia."
Check out Alices website and blog, she does some amazing work.
Alices blog post
Angela contacted me to see if her camera could still be used to take photographs. She works at the Re-union Grille, Cedar Park, Texas. The camera is part of the fixtures and fittings of the restaurant but they are looking at getting it up and running in the near future. Any of my US friends like to drop by and take a look?
Peters process camera, is a little different as its made by Sidney R. Littlejohn Co. (circa 1927), was brought back to life and converted to shoot 5"x4", 5'x7", 10"x 8" and 14"x17" sheet film, with Ilford FP4 being the stock of choice across the formats, though with further development, it will be possible to shoot 20"x24" film, glass and paper negatives.
Check out this excellent Vimeo clip highlighting The Outlaw Project…
The Outlaw Project from Slaughterhouse Studios
"We have one (20×24) here in Boston, it was loaned to us and belongs to Francesco Dimitri Fragomeni and we're currently using it for an ongoing wet plate project."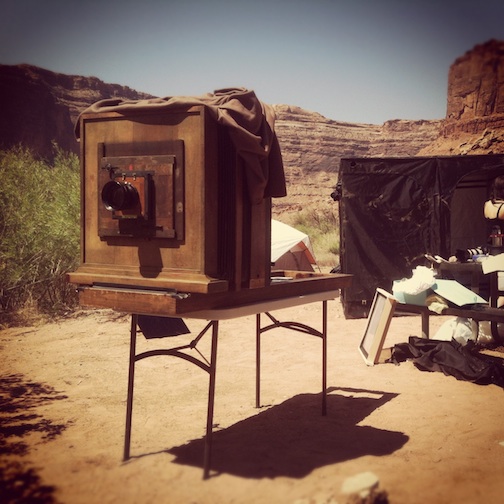 Francesco Dimitri Fragomeni – "It was originally a R.R. Robertson copy camera built in Chicago around 1915-1920. When new, it was set up on a 20 foot rail system in the basement of a museum and used to make photographs of the museum's collection. I've never been able to figure out which museum but this was usually the primary use for these cameras when new and they were usually made to order for museums. When the museum replaced the camera, it was given to a portrait photographer who removed it from the original rail system and made the first modifications to the camera for use in a portrait studio. For this particular camera, that studio is believed to have been in NM.
After some time the studio closed and the camera was disassembled and stored. At some point, someone discovered the camera and reassembled it (improperly) probably for use as a prop or decoration in a store front. Eventually, it was partially disassembled again and stored until it was found by the man I bought it from who moved it to the back of an antique shop in Scottsdale, AZ which is where I came upon it. I bought the camera and reassembled it properly and removed about 100lbs of unnecessary iron parts. Then I gave it to Dan."


A new addition (I'll add them as people send me their info)
This is Kelly Shane Fuller with his Robertson Model Seventeen process camera. Kelly says " Its a 14×17 with a 20×24 expansion back on it rocking a 14in Artar. I don't know much about it's history, but got it from a very old man in Seattle. He said it came out of a copy shop in the 40's, and he's had it ever since."


Oh and I forgot to post one of me with my Hunter Penrose…

A bit of history… from the Hunter Penrose website.
"The year 2013 marks the 120th anniversary of the founding of our business in the printing industry. Hunter Penrose traces its roots back to A W Penrose & Co which started a 'Process Chemicals Stores' in Upper Baker St, London in 1893 as a branch of a pharmaceutical chemical company formed in the 1830s.
A W Penrose grew rapidly with the then newly emerging process engraving industry which mushroomed to incorporate photographically produced chemically etched halftone blocks instead of hand drawn engravings. A key item of equipment for newspapers and printers rapidly became the process camera and, within a few years of its foundation, Hunter Penrose was selling these all round the world. Click here for information on Penrose cameras
Arthur Wellesley Penrose was born in 1873 and was a surgeon, when he founded the process stores with William Gamble and A Wybrant in 1893. They established the business using premises owned by Mr Penrose's grandfather, also an Arthur Wellesley, who'd been born in 1816 (just after the Battle of Waterloo and hence patriotically named after Arthur Wellesley, the Duke of Wellington).
The Company was initially based in Upper Baker Street, Clerkenwell. By 1901 the business had grown rapidly and the company moved to much larger premises at 109 Farringdon Road.
The driving force behind the development of A W Penrose & Co was William Gamble. He was born in 1864 and had been apprenticed to the Scarborough Daily Post as a printer, later becoming a reporter and then a sub-editor. He developed a great interest in the photographic process and set up his own experimental laboratory. The difficulty he experienced in obtaining certain chemicals suggested to him the commercial opportunity for a 'process stores' and hence the business was born.
Apart from developing Penrose & Co into the foremost company in this field, William Gamble was a prolific writer and speaker on all matters to do with the Graphic Arts and founder and editor from 1895 to 1933 of the Process Year Book which became the Penrose Annual. He died in 1933.
In 1927 the company was acquired by Hunters & Co to become Hunter Penrose. Hunters and Penrose had been in competition with each other since the 1890s and Edgar Hunter then became chairman.
In the early 1960s Hunter Penrose purchased S R Littlejohn, another competitor, to become Hunter Penrose Littlejohn. Later in the 60s it merged with Johnsons of Hendon, a very old established producer of photographic chemicals, to become the Johnsons HPL Group. During the 1970s the company changed ownership twice. In 1983 the Company was purchased in an MBO led by John Sewell, who had joined Hunter Penrose in 1974 as Marketing Manager and had become Commercial Director.
Hunter Penrose continues to adapt to rapidly changing markets. Over the past two and a half decades, in addition to maintaining its position in the pre-press field, it has strongly developed its offering in the pressroom and in finishing. As a deliberate policy, the Company has also worked hard to develop its sales in a diverse range of overseas markets. The addition of David Thomas to the management team in 2003 as Export Director very much helped this policy succeed. He had many years experience of overseas sales working for the Openshaw and the WGI Group.
The Company is big enough to offer a comprehensive and keenly priced product range but prides itself on providing a highly personalised and experienced service."
And some images I've sourced from good old "Feepay"…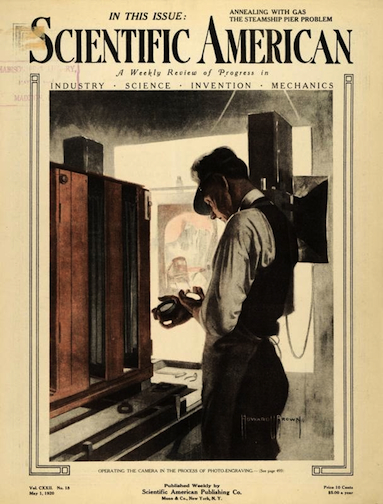 If you have or use one of these ultra large process cameras and would like to be added to this list then just send me an image and some text about yourself….