Hot off the press!
The 2021 Illustrated Collodion News.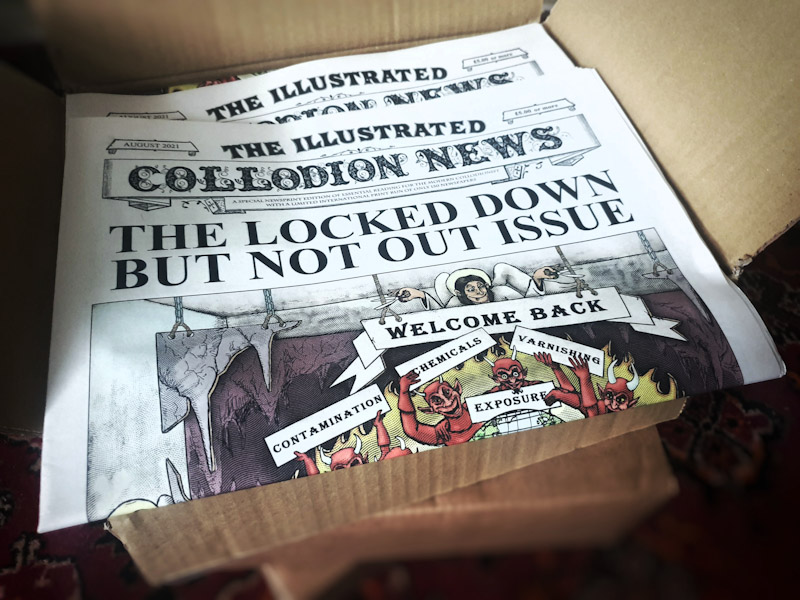 A 20 page broadsheet newspaper with a limited print run of 150. Get them while you can.
Priced at £5 or more plus postage, as all profit goes to MIND, the mental health charity. We only make a small ammount on each copy. So your additional donation, if you can, makes all the difference. Through your generosity last year we raised £690.

To reserve and purchase a copy, please email me on tony@fourtoes.co.uk
Thank you to all that had taken time to submit images and articles. In no particular order…. John Chadwick, Simon Riddell, Helen Billington, Ray Spence, Abe Parkin, Tony Caltabiano, John Coffer, Steve Hane, Patric Bosc, Dave Shrimpton, Erika Lederman, Ana Tornel, Anabelle Schattens, Jo Gane, Rose Teanby, Paul Elter, Denis Krieg, Christian Klant, Sheila Masson, Severine Peiffer, Nicola Lane, Deborah Parkin, Aarold van de Aa, Monsieur Collodion, Robert Kalman, Jean Herpin, Jozlynn Von Podewils, Laura Rhiannon Peters, Emma Brown, Jonathan Pierredon, Bertani Michelangelo, James Millar, Moo Pa, Enzo Lucia and Elizabeth Herman.
This year has been a bit of a squeeze to get everyone in, I think we managed 99% of submissions. If there are any typos or errors please accept my sincerest apologies. It always surprises me how many get overlooked and slip through each stage of proofreading. I hope I'm improving each year. First proofread found 21 errors, second proofread found 147! And I still managed to find three sneaky ones after the final edit and sending to it print. How does that happen???
Last year we sold out of T-shirts but they were still in great demand, even after a seconds print run. This year we have had to think a little differently. Last years apparel producer sadly no longer exists, shipping worldwide was costly, even more so now what with Brexit and additional taxes and fees. So, we have set up an Illustrated Collodion News Etsy Store. Its all new to us but it is linked to a Print on Demand service (Gelato), so depending where you are in the World, your T-shirt will be printed and shipped by your nearest supplier. Let me know how this goes as I have no control over quality and shipping times etc. but for logistical ease I have had to let go a little.
Please remember ALL profits from the newspaper and associated items go to MIND, the mental health charity.
A registered charity in England (no. 219830) and a registered company (no. 424348) in England and Wales.
Thank you,
Tony and Moo Pa