For this years European Collodion Weekend in May, we thought it would be a bit of fun to produce a special ECW edition of the Illustrated Collodion News. We have printed these the last few years, to raise funds for various charity events we have attended. This year all profits are going to the mental health charity MIND.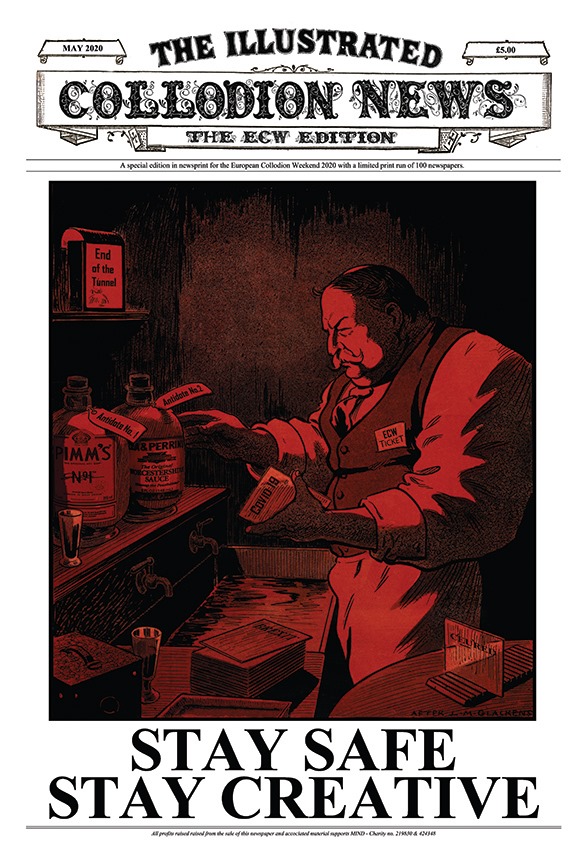 We went a little further this time around, with a 20 page broadsheet newspaper, inviting a number of well known and lesser known wet plate practitioners and artists to contribute articles. We had a great response and were soon filling pages with great content.

We went for our standard limited print run of 100, printed by our usual supplier PrintonPaper.com. They arrived about a week later and with great excitement I opened the delivery to be met with a growing sense of despair.
We have used this company in the past and always raved about the quality product they produced. Not any more. Just take a look at this pale imitation. No punchy blacks or striking details. Just washed out greys.
I was straight onto the chat function of their website where I struck up a conversation with their Customer Service representative who was very kind and considerate, she even mentioned that she didn't think they looked right when sending them to me.
Apparently they have changed their machinery and therefore their paper stock. Sadly they hadn't informed me of this as a returning customer (although they had some customers) and failed to inform me when I placed the order.
The change in equipment and stock was to provide a better and quicker service to their customers as the previous kit was problematic. My arse. I don't think so. Why would you change to such an inferior product when you had such a good product in the first place? Madness.

Anyway, to cut a long and bitter story short, with seven weeks of back and forth via the web chat with various denials and excuses, being passed from pillar to post. I eventually obtained a full refund. SEVEN weeks of unnecessary stress and tension. It should have been sorted in the first few days.

In the meantime I had approached another company The Newspaper Club, who provided a test newspaper and had it delivered to me within 24 hours. The difference could not be more obvious. They still use the "problematic" equipment the other company no longer use. And the quality is sooo much better, they obviously know what they are doing.
What do you think? Can you tell which is which?
So I placed an order for 100 x 20 page broadsheets with The Newspaper Club. Printed and delivered within three days. This just blows the other companies excuses clear out of the water.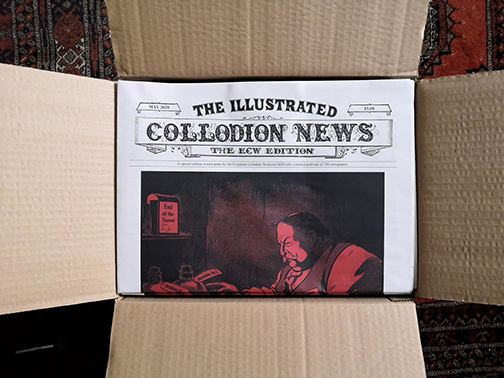 They even offered me a 10% discount on our order! Granted they are a little more expensive but Hey you get what you pay for at the end of the day!
Have I mentioned how wonderful The Newspaper Club are? I cannot recommend them enough, they have saved the day. Thank you.
Also a big thank you to the T shirt print company that we used. After trying several, Jamie at work suggested we try some friends of his at Islington Mill. Manchester Screen Printers One69a.

A quality product with a quick turn around. Please excuse the model… and thanks to Mark Osterman for the use of his illustration.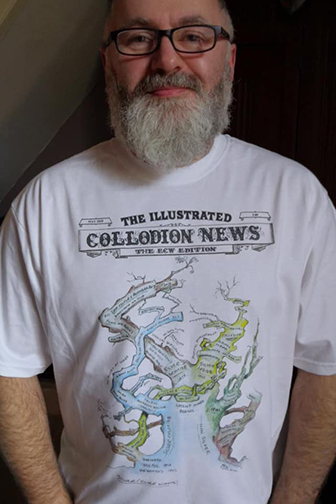 Pre-orders are being sent out this week, firstly to those who would have attended the, sadly Covid cancelled, ECW event. Parcels are winging their way all over the globe as we speak. And let me just say that shipping to the USA is truly extortionate.
I will work out how many spares there are of the newspaper and Tshirts and offer them for sale via social media. So keep your eyes peeled. When they are gone, they are gone.

Newspaper £5 – T Shirts £12 – Plus shipping.

Remember all profits are going to MIND, the mental health charity. So if you are in a position to offer a little more please feel free to do so.

Thank you everyone for your continued support and generosity.