Today is the general cinema release of The Phantom Thread. A historical drama, written and directed by Paul Thomas Anderson, set in the 1950s world of couture London. Starring Daniel Day-Lewis, Lesley Manville, and Vicky Krieps. It may well be Day-Lewis's final movie performance before retiring after four decades of acting.
Back in April I was asked if I could reproduce an image as a Hero Prop for the movie, the Production Designer, Mark Tildesley, had emailed some examples of an original and some digital mock up attempts, that they weren't too happy with, and were looking for someone to try to replicate in the original process.
This looked to be carbon transfer on glass, I don't know anyone in the UK that practices that technique and I explained I work primarily in the wet plate collodion process. They asked for further details and if I could pop down to London to shoot a few plates on set!?
Sure, why not?
The set turned out to be at The Goldsmiths Hall. I stayed in a lovely hotel overnight after driving down on the Saturday. I was due on set at 0700 Sunday.
I was to set up my darkroom and studio in the Exhibition Room. I was worried about that plush carpet and any silver nitrate drips, thankfully the production crew had the same worries and put down plenty of protective flooring.
I must say it's the fanciest studio I've worked in so far.
Paul Thomas Anderson was unsure which model he'd prefer to act as the main characters Mother in her bridal portrait. He was well aware of the collodion process and it's limitations. He still wanted to see each model in the wedding outfit and a plate of each. He would then decide which he preferred. This meant hair, makeup and costume work for the crew…
The chosen model had to then get back into costume and makeup for the final plates.
Here's one of the final plates.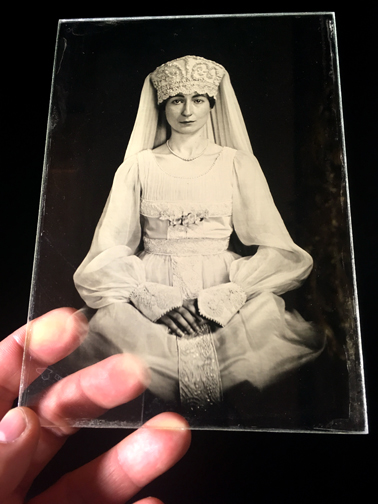 Daniel Day-Lewis and Paul Thomas Anderson looking at the plates….. honest, it is them.
Where I was working turned out to be in-shot for a later scene so the protective flooring had to be taken up and my kit moved out of of the way during filming and then put back later for the final wet plates.
This is the Livery Hall. These are not my lights but were part of the set and being used by the stills photographer.
The Courtroom, in the distance is the Exhibition room I was set up in.
The details in this building are amazing.
It's also amazing to watch what these guys do.
I'm trying to stand out of everyone's way back by the main camera. Love watching the scenes being filmed and the interaction of the cast between scenes. Day-Lewis really does stay in character throughout, I'd read that about him in his other roles.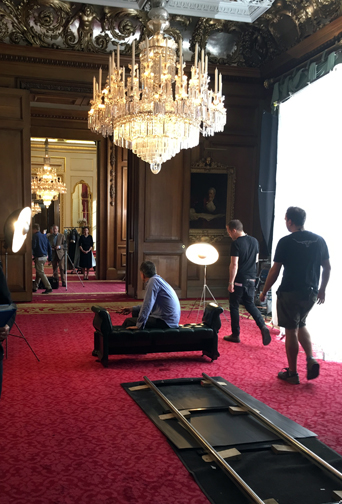 It turned out to be a seventeen hour working day, I finally got back to Manchester around 3 AM, and was up for work again at 7.
It was a tiring but enjoyable day. Turns out Paul Thomas Anderson is a lovely bloke and the crew were really helpful with loading/unloading my car, Thanks everyone.
Whether they used the plates in the movie or not I have no idea, I guess I'll have to wait till I see it in the cinema. Reviews at the time of writing this blog post have been very favourable indeed.
I would have loved to say I took the opportunity to shoot some plates of Daniel Day-Lewis but sadly that didn't happen. Maybe next time…
Oh, and Merry Christmas everyone.
Enjoy.