Last Summer I was asked to come along to the Black Country Living Museum to make some wet plates for a Wall to Wall Production called "Victorian Bakers" to be screened on BBC2.
Well, Episode 2 has just screened so I can blog about it. You can view it online with iPlayer for the next 28 days.
It was a little short notice, but another great opportunity, with a very early start and a drive down to Dudley before the rush hour morning traffic.
As its a Living Museum I wasn't able to leave my car/darkroom on site, so used my wooden suitcase darkroom, set up on a picnic table, off camera. Unfortunately one of the crew, whilst helping carry my gear, managed to up-end my chemical carry case up resulting in some lively shaken chems.
A quick test plate still in the wash to check the chems… All seems to be well.
Through the Ground Glass.
The Bakers. John Swift, Harpeet Baura, John Foster and Duncan Glendinning.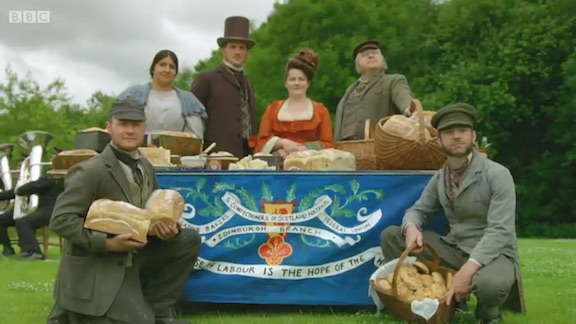 The Presenters Annie Gray and Alex Langlands.
Did I mention it rained! A good old English Summer, you cant tell watching it on TV but it was all shot between very heavy showers.
I had been asked for measurements before hand, it seems a Victorian Gentleman measures his waist somewhat differently to that of a modern jeans wearing bloke, this resulted in a very tight pair of trousers! Thankfully not seen on TV….
I did manage to get one shot in my very dapper bowler.
I didn't get to keep the outfit.