I bought this old wooden cash register back in the summer ready for the charity wet plate events that I attend with Andy and Patrick. I'd also bought a much smaller one which we then used as the seller of this pne refused to post it. So, via the wet plate network it was hand delivered this weekend by Elizabeth, who was visiting her family in Manchester.
I can now see why the original seller didn't want to post it! It is surprisingly very heavy.
I was thinking this one could also be used as a worktop on our table, it's plenty big enough. I'm now thinking it would have to be a hefty table to support it. I'll have to weigh it.
There are two locking mechanisms, the usual front drawer one, and one next to the spring release button. No idea what it does, see pics. I'll go through my stash of old keys and get them working again.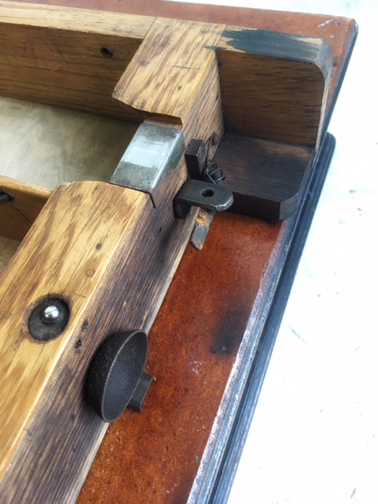 Thank you again to Elizabeth for bringing it to the studio. Appreciated.