Its amazing what you can get in an empty Flora margarine tub nowadays.
I'd sold one of my cameras recently and rather than the money get frittered away I decided to invest it into my Victorian plate collection. I was lucky enough to see these online at a Harrogate auction house and called to leave an absentee bid as I'd be working at the time of the auction. When I called the next day I found I'd won the bidding for less than my highest amount.
Steph and I took a trip up to Harrogate on the weekend to collect them. They were described as 11 Victorian ambrotypes. Turned out there were ten ambros and one tintype, no problem considering how fantastic they are.
Under closer inspection, as hoped, they seem to be of one family's holiday to Scarborough and Whitby, maybe taken over separate years. A collection of family images like this is quite a find, usually they get broken up and sold on separately. I'm glad to say I'll be keeping them all together.
Quarter plate ambrotype.

Quarter plate ambrotype.

On the reverse of two of the frames is this badge… Children's Corner was one particular end of Scarborough Beach.

Quarter plate ambrotype.

Quarter plate ambrotype.

1/6th ambrotype.

1/9th ambrotype. The detail in some of these plates is amazing, easily readable on the bucket is "A present from Whitby".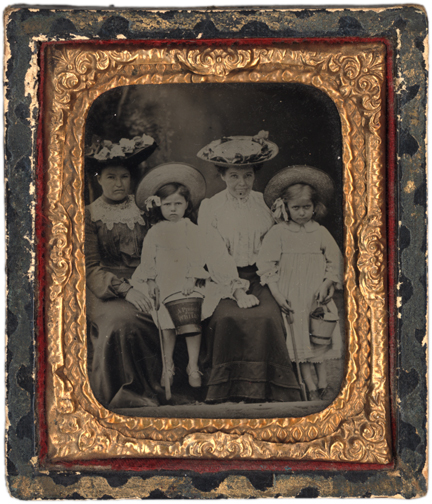 1/9th ambrotype with the same lady and little girl as in the above plate.

The rogue 1/6th tintype.

This is the plate that stood out to me when looking at the auction online, that young lads blonde hair was visible in several of the plates. 1/6th ambrotype.

On the rear of this case is written "taken on Jubilee Day at Scarbro' 1897".

There were also a bunch of spare foils, felts, cases etc…

The following two high quality plates don't seem to fit in with this "family" but were in the same lot.
This is this fantastic quarter plate, cased, tinted ambrotype. On the rear of the case is stamped " H.C. BOOTH, ARTIST, HARROGATE."

And this 1/9th ambrotype is quite unusual as its highly polished/burnished almost to a mirror like finish.