Following on from The Daily Telegraph web gallery it now looks like Amateur Photographer magazine is interested in a 3 page article about the Saltburn Victorian Photography Festival that was held in April.
They have a deadline for today for submitting images, the wetplate scans can easily be re-sized to their requirements, the cyanotypes and VDB's were a different story.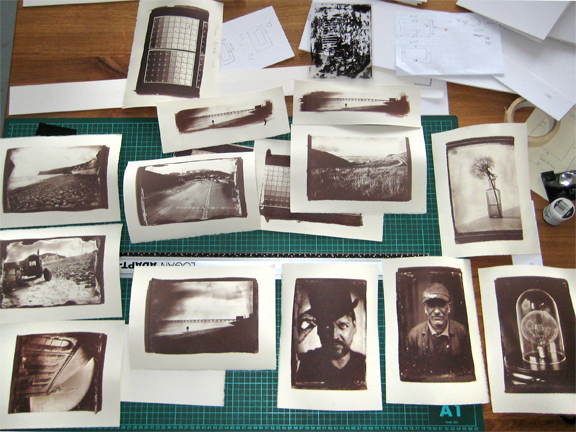 Started off okay making some test prints of the step tablets so John could double check the adjustment curve. It all went downhill from there. Looked like one of the printer head nozzles became blocked and wouldn't clear ending in very stripey digi-negs. Printer two was a cheap inkjet that would only spit out a sheet every 30 minutes in colour ink. From these we did make some prints but they were no where near good enough. Printer three is a brand spanking new A3 Epson R1900 that John bought yesterday, set up in the studio with a laptop and off we go again. Printed step tablets with applied curves, still not happy, tried one without a curve and what do you know……..we're back on track. Final prints maybe a little contrasty for some people but I do like a bit of punch.
So after a week of stress the prints are done, the framed works have been picked up by Charles Twist ready for the gallery to hang, the mounted prints for sale in the browsers I'll take up with me on the Friday. I may well do some additional printing of some non Saltburn plates.
Paper is Waters Saundersford. 40 second exposures under a UV unit.