Yesterday I was in Stratford, London for a TV/Wet Plate photography job. I was a little concerned on how my Fixer was behaving, luckily fellow wet plater Robert O'Callaghan offered to drop me off some fresh fixer.
I can't post any of the plates from the day, that blog post will have to wait till the show airs sometime later in the year.
A quick refreshing pint at the end of the shoot and some time to catch up with Robert as I'd not seen him in a while, he'd also brought along a Gumtree Job Lot that he'd picked up for me, what seems to be an age ago.
This evening I dropped all my kit off at the studio and had a bit of a clear up as I've a workshop on Saturday.
Couldn't resist a good look through the job lot…..
A load of brass bit n pieces…
And assorted Magic Lantern mounts, bindings and masks…
This no name whopper…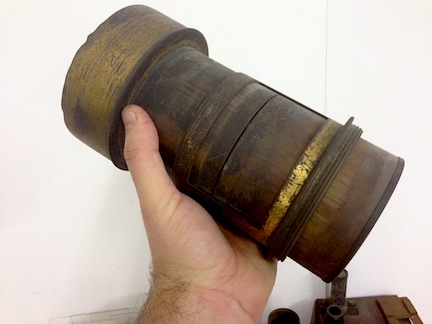 A TT&H Wide Angle Rectilinear for 12×16… I hope thats inches.
And a rough Optimus which is Perken Rayment if I remember rightly, shame this has one rear element missing, I think.
Lots of other little bits and pieces, flanges, lens caps etc… including this little Dallmeyer lens cap
Oh and as Robert suggested… the wooden Bovril box is probably worth a pretty penny.
Good to see you again Robert and thanks for all your help. Appreciated.