Drawn by Light – The Royal Photographic Society Collection at the National Media Museum is on till the 21st June 2105. Go see it!
Steph and I went to see this on Sunday for a couple of hours, it was well worth the visit. Unusually the curation has taken a themed visual content approach rather than the expected chronological exhibition.
There was far too much to comment on here but here are some of our highlights.
Stephs favourite work was this print by Frederick William Bond "Contents of an Ostrich's stomach" 1927
Frederick Bond was a photographer at London Zoo, and when an ostrich died he recorded the contents of the birds stomach…
There were a number of Maull & Polyblank Albumen prints on display. I have a couple of these myself, I thought I'd blogged them but looking back I haven't.
My highlight of the exhibition was this image of Christina by Lieutenant Colonel Mervyn O'Gorman 1913.
This series of work has had much publicity of late especially in social media for the lovely red colours in his early autochromes. This image though is a Bromide print and I thought it was a fantastic image. I'd go back just to see this.
We also popped over to Salt Mill, Saltaire. What a pleasant surprise. A huge Mill complex home to an art gallery, book and art shops. It's an amazing building in itself.
The art shop.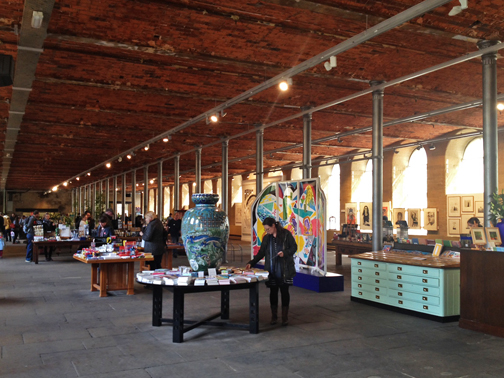 David Hockney's latest works on show "The Arrival of Spring"
One of the top floors. Amazing huge space.
Also spotted this studio camera stand being used as a notice board. And no, it wasn't for sale.

Drawn by Light is showing until June 21st. Well worth a visit, and don't forget to pop downstairs to the Kodak Gallery to see the vast amount of cameras, plates and ephemera on display.