Well thats another ECW over with and now I'm really looking forward to next years.
A 1000 mile trip thats well worth the effort. It was good to see old friends and make some new ones. And good to see the bar staff remembered the right size beer glasses this year.
I didn't really take many digital shots of all that was going on, so I think that this video montage, put together by Jacqueline Roberts give a good idea of how it went…
The Saturday was so bright it threw many people into a quandary with crazy exposure times. Saturday for me was much better. I shot quite a few portraits for the paying public, the problem with this is they take the plates away with them and your too busy to get a quick digi shot of the plate. Thankfully, some sitters have scanned and emailed their plates on to me. Thank you..
Dennis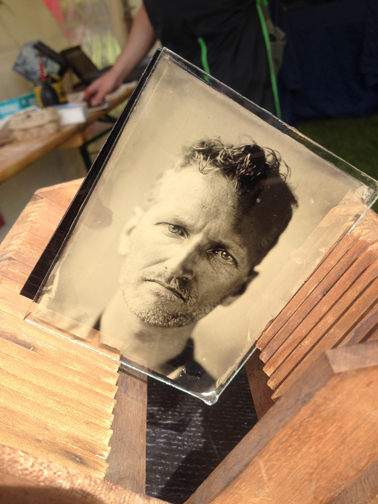 Wendy

Marc on his Shadow

A big thank you to Rasto and Michaela from Mamut Photo for their lovely ECW Collodion gift bottles, and taking the time to show me their Bromoil prints and letting me in on some of their secrets.
They had also taken the time to shoot plates with each collodion and dev combination that they sell. I thought this was a great idea and really useful.

They even had free samples of each developer to try!

I wish there had been more time to stop and chat with people, I will make a point of doing that next year. It was great to see you all again.
And again, thank you to Alex Timmermans for organising another successful weekend. Well done.

(Additional digital images used with kind permission from Alex Timmermans & Ferry van der Vilet)