What a fantastic weekend. We've just returned from this years European Collodion Weekend, (ECW2018). Steph came along with me this year.
The previous years have been organised by Alex Timmermans in Holland, this year it was held in Luxembourg for the first time. Severine Peiffer and Joel Nepper of Lanterne Magique kindly taking over the organisation.
We travelled over very early on the Thusrday morning, leaving at about 0530, but still managed to miss the ferry, where we were supposed to meet up with Moo Pa (Andy), Tony Lovell and Colin Boughen. eventually we arrived in Luxembourg at 19.30 and 600 miles later.
I've never seen so many ice fishing tent/darkrooms. Maybe we should try for sponsorship…
Severine at her best.
Tom Klein and Elizabeth Herman as the mad scientists.
Tony Lovell hard at work.
Markus Drischel aka The Pied Piper of Wetplate.
This year Anton Orlov made a visit from the USA as he tours around Europe. Always a pleasure to see our American friends. Who will it be next year?
Andy (Moo Pa) impressing the public on the Saturday. It was his first time at ECW and shot some amazing plates.
Ana Tornel power washing some plates.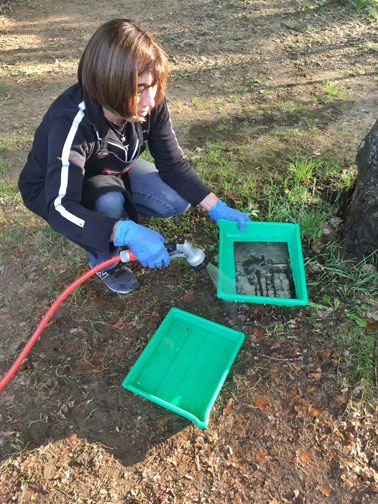 And a great plate it is.
Alex Timmermans taking it easy this time around. Feet up, hair down.
Jacqueline Roberts prepping plates. I would love to watch Jacqueline work for a few hours. She is one of the most influential wet plate photographers I know. Her images are amazing.
Attention to detail, puts my cleaning routine to shame.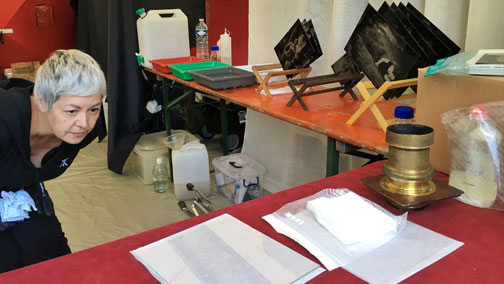 And the proof is in the plate… a beautiful image of her daughter.
Malen and her friends were in great demand to sit for plates. Thank you.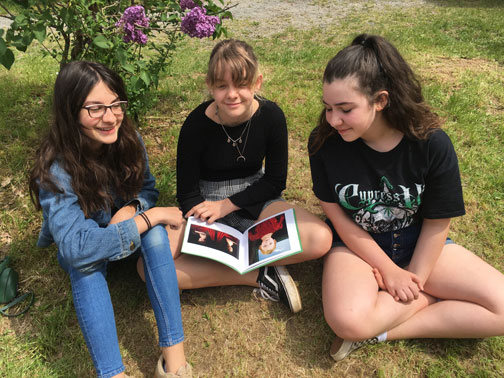 The many faces of Emrys.
My attempt. Whole plate tintype.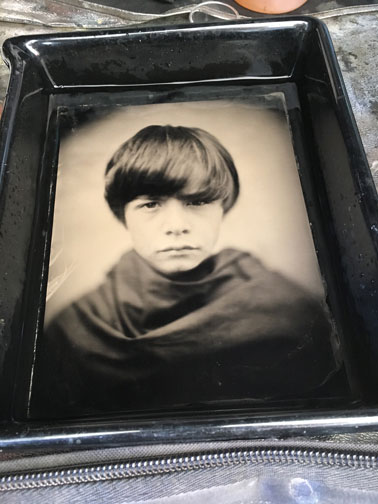 Jacqueline, Ana and Anabelle, now known as The Three Witches from Macbeth, they had asked me to shoot a plate, shooting three people on a lens for 1/4 plate on a whole plate tintype.
This tintype was a definite favourite. Inès photographed so well. A natural.
Madoc playing it cool.
Thanks to Dennis Zillotto for this sequence of images of me working.
This slideshow requires JavaScript.
Who would have thought that Malen…
… would look like a serial killer in the hands of Silvano Magnone, he shot a series of these and this is the less scary of the bunch.
What's really useful at these events is seeing all the little tips and tricks people use, as well as all the kit and additional processes.
Like the Haedler Shurtape used by Anabelle to frame her plates or this Edding ink pen/marker that looked really good on varnished plates by Paul Walther. I'll be borrowing these ideas.
Patrick Van den Branden had brought a selection of gelatine Orotones, some with duo-pigments that changed colour as the angle changed. Impressive.
Maris Locmelis was knocking out some fantastic close up portraits…
Oh and one of me by Maris.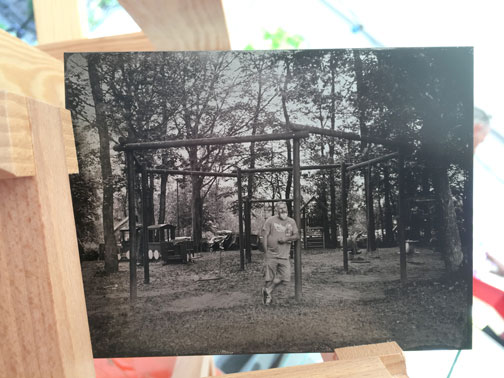 Colin Boughen joining us for the first time from the UK.
Tony Lovell deciding on Eccles, Chorley or Welsh cakes.
The food, drink and company was excellent.
And thank you to Guillaume d'Hubert for this great portrait of me and Emrys.
I could have sworn I took more digital images than what's on my phone. There's so much to see, here's a Facebook link to the ECW page, hope it works.
Severine and Joel you did a fantastic job putting this event on at a new venue. Well done and thank you. It's truly appreciated as this event is a highlight of the year. So many lovely talented people from around the World. It's not just about pouring plates but more about the growing family of friends.
Again, great to see you all and see you next year if not sooner. If your ever in Manchester let me know.
If your interested in past ECWs heres some links to previous blog posts.