What a weekend! Thank you everyone for making this years Lacock Abbey Wet Plate weekend such a success.
Attending this year were Mark Voce, Andrew Billington, Jonathan Keys, Paul Cordes, Simon Harbord, Isabel Leeson (Belgium), Gordon Fraser, Laura Rhiannon Peters, Kevin Lunham, Tim Ingmire, K Azril Ismail, Gerald Figal (USA), James Pearson and myself.
It took me six hours to drive from Manchester to Lacock, the traffic was awful, so by the time I arrived and pitched my tent most people were already in the pub.
It was going to be a busy weekend as Lacock village was also playing host to a WWII re-enactment event, which was a little surreal, especially on the Saturday morning when we arrived at the main gate to the Abbey to be confronted by an officious gent in a German uniform?
And no I don't mean Roger…
Lacock Abbey is a must visit especially for anyone interested in the history of photography.
Roger Watson, Curator to the Fox Talbot Museum, pointing out the rules and regs for the weekend.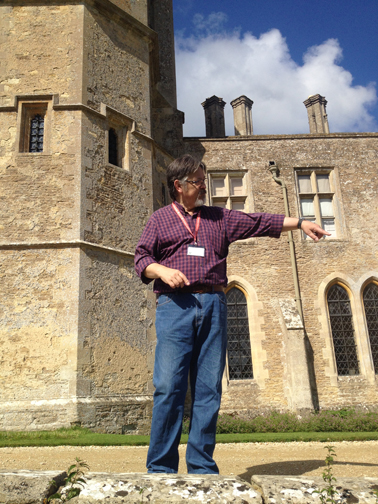 Our site for two days to the East of the Abbey. Last year we were next to the wood yard but thats been converted to a small carpark. This new position meant we were in full view of the visiting public, which was quite nice as there were lots of questions and interested people.
Thanks to Gordon for making some signs for cameras on the lines of "look but don't touch", shame some people touch before they read… I only had to "ask politely"one young lad to not pull so hard on the lens and front standard!!
This year, unfortunately, we were asked not to go into the Cloisters as it was expected to be busy, that was a great shame as those areas are most attractive to the wet plater. Luckily on the Sunday we set up early and some managed to get in their quick plates between the door opening and the first visitors arriving. Hopefully next year we can have greater access, maybe limited numbers of the group at a time? I'm glad some managed to get some nice plates of the Cloisters, it makes the visit even more worthwhile.
As you can see there was a variety of darktents in use, multiple sized hydroponic/grow tents, Eskimo 3's, and home made contraptions.
Gerald Figal hiding from the sheep in the infamous "Bastard" Box.
Mark Voce outside his Quickfish tent with one of his most excellent 8×20 plates.
A lovely view from the river bank back toward the Abbey.
We were very lucky with the weather again, considering the day before was torrential rain.
A lot of the group were having problems with fogging from the temperature of their chems and darkboxes. Even with further restrainer it was problematic. I resorted to using my Negative developer for making my positives.
I first sought shelter under a great big tree away from the Abbey toward the river, much cooler but so much darker. I'd taken along the 12×15 inch field camera again with the Ross Xpres 14 inch and Dallmeyer 4D 17 inch lens.
Heres a 12×15 inch tintype. A lovely plate apart from the silver nitrate drip down the front. I must have taken five attempts at this tree in glass and tin. Exposures were from four to eight minutes depending on aperture.
A 12×15 ambrotype.
A crop, the detail is amazing.
A 12×15 ambrotype of the very popular viewpoint.
A quick cyanotype, iphone pic while drying on the grass, so a little curly. I'd pre coated some paper a few days earlier and was happy to see they were fine to use.
And a quick Van Dyke Brown. I'll do some decent ones when I get back to the studio after varnishing.
I had taken along the bargain Dallmeyer 4D as it covers 12×15 but I've no waterhouse stops for it, and shooting at f6 was going to be problematic. So here's two I made earlier in true Blue Peter fashion out of trophy aluminium, amazing what you can do with a scissors, hammer and a file. I'd measured incorrectly so these were f24 and f54.
A 12×15 tintype. I first thought this had some fogging in the centre but then remembered two elderly visitors in white t-shirts walking through the shot, even at a 6 minute exposure they still registered.
Ambrotype at f6 as I mislaid the stops temporarily.
A cracked ambrotype. The plate holder, when it gets hot starts to warp resulting in the plate cracking on closing it in the darkbox. I dev'ed it anyway but threw it to one side, a couple of hours later I picked it up and thought it wasnt too bad and maybe I should have cleaned/washed it properly after all. Maybe I'll clean it up and cut it down.
A 12×15 ambrotype. My last attempt. Plates were starting to dry out with the lengthy exposures and heat issues.
A crop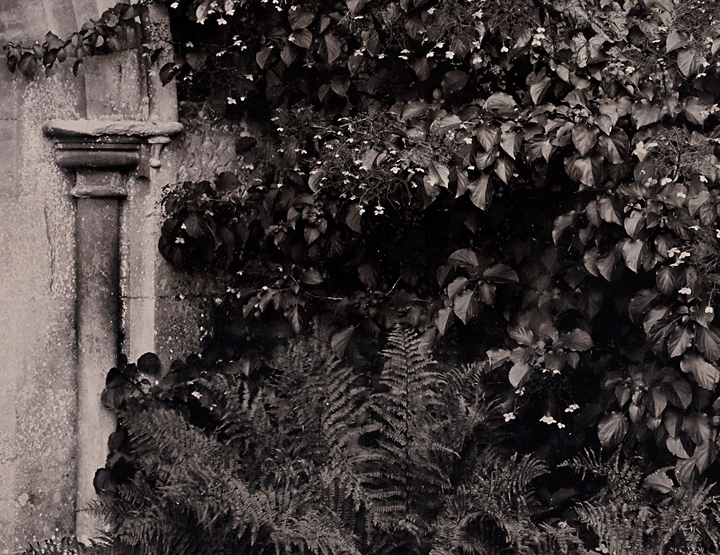 Heres the car all packed up and ready for the long drive home. Luckily it only took three hours, driving down on the Friday it had taken me six!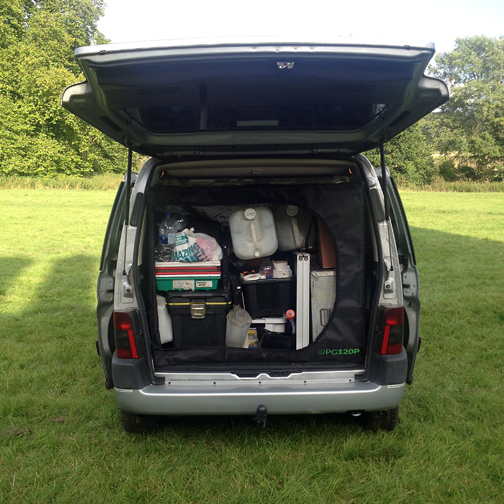 And I couldn't leave without taking this famous shot of Lacock Abbey on my phone.
The main problem I have found is a fine layer of silt/mineral deposit on the dried plates. I had noticed it on the Saturday so had started giving a final wash with De-ionised water but its still quite evident. If I'm brave enough, now that Ive digitised the plates, I might try to re wash and clean over with some cotton wool. There is a risk of peeling with re washing but it will annoy me if I don't try before varnishing.
Thanks again everyone for making it an enjoyable weekend. Hopefully we can make this an annual event.
Time for a rest I think.