Thanks to everyone who turned up to this years Lllanthony Priory wet plate weekend. And for those who couldn't make it, next year there is a new venue on the cards…
We had lovely weather on the Saturday, sadly Sunday was very wet but that didn't put some of you off. Yes that is blue sky!
It seems some over did it on the Friday night and weren't seen till late on the Saturday but we'll not mention any names.
This year we also had an overseas visitor, Juyong Lee from South Korea, he was visiting the UK for a few days before heading to France.
Steph and I met up with Juyong in Manchester, I'd been storing some Magic Lantern projectors for Juyong, and this was the perfect opportunity for him to collect.
So glad he extended his trip to Llanthony.
I'd mentioned he could use my kit if he felt like shooting some plates. We'll just not mention that first collodion pour…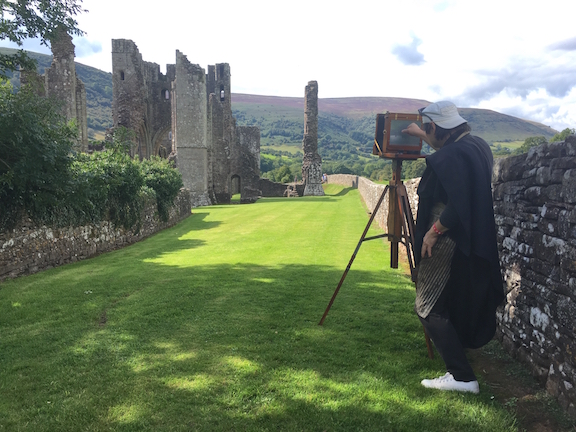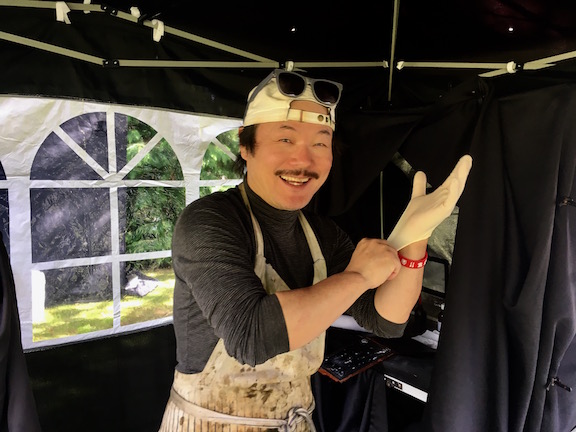 A cracking plate there Juyong… some bad news though, you'd left the plate in its initial wash water after fixing, having not washed sufficiently. On returning to the plates the next day, still in the wash trays, there was no image on the first (above) plate and only a hint of an image on the second. Ive never seen that happen before and wonder if there was anything in the water that could exacerbate it?
Ray – glass – pour – not quite getting the hang of wet plate. (he did shoot some plates, honest)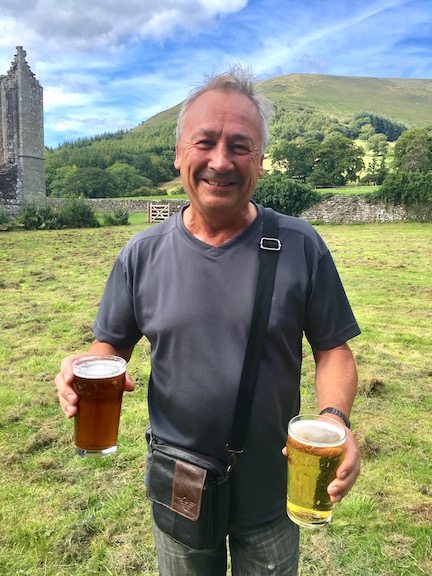 Colin looking concerned…

Kevin looking less concerned…

So that's what Kevins 4×4 is for… Thanks for the cake Helen.
My plates, I was quite pleased with these from Saturday, super bright plates.

Dinner at the Half Moon on the Saturday, not sure what Stephen is praying for….
So another great weekend. Good to meet up with everyone, and to meet some new faces, Stephen and Colin. And thanks to Cordelia at Court Farm for letting us use the field again. Appreciated.
Next year Ray is working on a new venue, hopefully it will all work out because it looks great from what I've seen.