Its been a busy week. Wednesday was the launch of Design Manchester 16 at 1 Angel Square. Check out the events running throughout October.
Last night was the opening of the Marcantonio Raimondi and Raphael exhibition at the Whitworth Art Gallery, Manchester. This is a must see if you are in or visiting Manchester.
Marcantonio was one of the leading printmakers of the Italian Renaissance and is best known for his groundbreaking collaboration with the Renaissance artist Raphael. This is the first Marcantonio Raimondi exhibition for thirty-five years and the first ever in the UK. Some of these works have been loaned by major collections including the Royal Collection; British Museum; V&A; Fitzwilliam Museum, Cambridge; Ashmolean Museum, Oxford; Stanford University, USA; Leeds Art Gallery; and Liverpool Libraries. And many have never been exhibited!
All of this is thanks to Dr. Edward Wouk, Lecturer in Art History and Visual Studies, University of Manchester and David Morris, Head of Collections at the Whitworth curated the exhibition.
Here are some quick grab shots on my phone, they do not do the works/exhibition any justice at all, these need to be seen first hand. On till 23rd April 2017.
Raphael – St John the Baptist c.1507 -08 on loan from Liverpool Libraries.
The Spencer Album of prints by Marcantonio Raimondi and his "followers" is also available as a Turning the Pages feature on a nearby screen so you can browse the entire album. On loan from The John Rylands Library.
Marcantonio Raimondi – Portrait of Raphael c.1512 Engraving on loan from The Syndics of The Fitzwilliam Museum.
Marcantonio Raimondi after Raphael – Reconciliation of Minerva and Cupid, also called Allegory of Peace c.1515, Engraving with pen and ink.
Verso: Marcantonio Raimondi, Man with a spear – on loan from Stanford University, Iris & B. Gerald Cantor Center fro Visual Arts.
Anonymous printmaker after Agostino Veneziano (c.1490 -1550) after Michelangelo (1475 -1564) – Soldier Fastening his armour c.1517 Engraving. – The Whitworth, The University of Manchester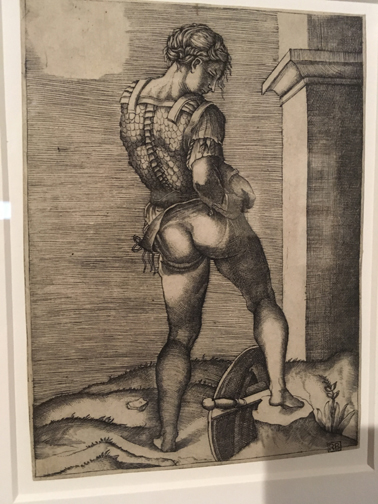 With this large number of printed works one can be surprised? by the popularity of buttocks and breasts on view. Even so, Steph headed straight to the ceramics and was enthusing all evening! Each to their own I guess.
If you cant make it then the Exhibition catalogue/book is available here.
Also the opening was accompanied by a Quintet of Renaissance singers. They were amazing with many of the attendees stood in awe.
Whilst you are there check out Elizabeth Price Curates, is has something for everyone as it features over 70 artists! Still on till October 30th.
This video piece was particularly captivating, I could have stood there all evening… Sorry for the video banding, I find LED lighting in gallery spaces an annoyance with the iphone video capture, sorry.
And this evening is the opening of Dedicated to all Defenders of Human Freedoms – The Art of Paul Peter Piech at the Peoples History Museum.
So much to see!