Just got back from a couple of days in the Lake District. I had packed the wet plate gear in the van in the chance that it didn't rain.
No real plans to shoot any plates, was just driving along and could make out this tower in the distance over the rooftops. Turned off into the village of Rampside to find this fantastic structure…. The Rampside Lighthouse.
Built between 1850 and 1870. The unpainted tower is built with red and light yellow bricks, giving at a distance the appearance of vertical red and white stripes (one white stripe on each of the four faces). This unusual tower, known locally as The Needle, is the only survivor of 13 range lights built on the approaches to Rampside and Barrow in the 1850-1870 period.
Quarter plate 5 inch lens f22 30 seconds

Quarter plate 5 inch lens f22 30 seconds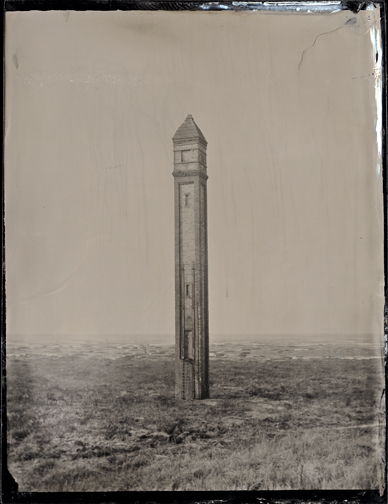 5×7 ambrotype

Crop from the 5×7 main image.

I'd not used the chems for a while or the darkbox. Found it was full of holes and had to bend myself into all sorts of shapes to try and keep it light tight. Silver bath need full maintenance as soon as I get the new studio up and running. Also could have done with a bigger jug. That'll teach me for not checking everything before hand.
I'll be heading back to this spot for sure when it gets a bit warmer. It always surprises me the sheer lack of parking areas when you are out and about shooting wet plate. You can see something you want to shoot and not find anywhere to pull in for miles. Luckily there was loads of space on the front at Rampside.
I couldn't find that much on the history of the lighthouse and was surprised I could only find two historical images online.
Well worth a visit.
Sorry about the dodgy scans. Yet another thing to put on the "needs sorting" list.