I was lucky enough to find this sliding box camera for sale online, unfortunately it was in Devon, fortunately through the wonderful UK wet plate community someone was willing to collect and post it to me. Thank you so very much Ismael, you are a star.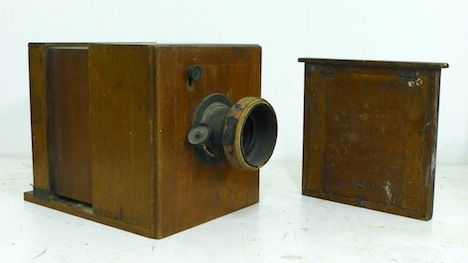 Originally the camera was missing its plate holder… a couple of days later the seller emailed to say he had found it. Bonus.
So its now a complete, if slightly rough around the edges, wet plate sliding box camera.
The plate holder needs a little work to make it light tight, repair to the hinges and tabs to make it good.
Inside are three perfectly fitting inserts.

The rear bed needs some woodwork but its not affecting its use at the moment.

Of interest was the remains of the lens cap. Its made of thinly coiled wood rather than cardboard. So I'll have a try at repairing that.

The lens, we originally thought was a standard no name petzval, but taking a closer look I could just make out some engraving…

… a quick rub over and it turns out to be by Andrew Ross (Rofs) of London lens Serial number 3296. Andrew Ross died in 1859, after his death his son-in-law John Henry Dallmeyer left the firm to establish his own optical company in 1860 and the company was run by Ross's son, Thomas, and became known as Ross & Co.

The thread on the focus knob is really rusty and I'll not force it but the glass cleaned up nicely.
I'm really please with this, with a little work its going to be a great little wet plate camera.
And you do know how I like a bargain 😉