On Saturday I gave a one day, one to one, wet plate tutorial to Mark, he'd seen my blog and had also sat for a plate at the Manchester Gothic event.
He was specifically interested in tintypes rather than ambrotypes. Although I did get him to prep glass and shoot some quarter plate clear glass ambrotypes, I think its always useful to have this knowledge whether or not you'll shoot glass ever again.
He had said he was interested in wet plate for portraiture so a friend of mine, Gwen and her friend Holly, popped into the studio for a couple of hours to sit for Mark. He shot some really great plates especially as this was his first time shooting wet plate.
Here are a few of his plates. Just grab shots with the digi cam.
Gwen

Holly

Holly again but this one had the dregs towards the bottom of the dev bottle over it.

Yours truly.

At the start of the tutorial I had him shoot a few still lifes till he got the hang of pouring etc. prior to the portraits.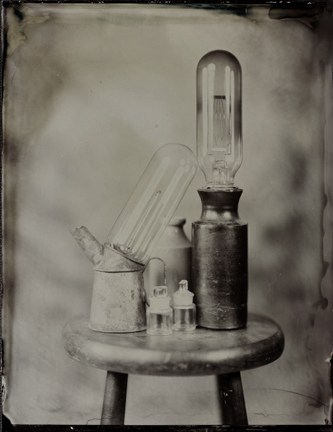 His last plate of the day, a quarter plate ambrotype.

His varnishing technique was fine, but we also used some Shellac varnish that had been left at the studio that had worked previously. Heres what it did to the plate…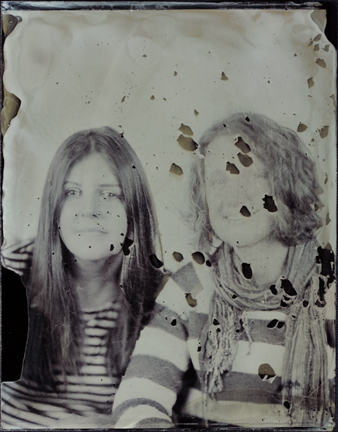 He did that well, I had to get him to overexpose/underdev and underexpose/overdev a couple of plates so he can recognise the differences.
There were some slight issues with hesitation with dev pours but I know he'll overcome this with continued practice. I had a really good day, I love it when someone shows such promise, understanding and enthusiasm. Well done Mark.
And thanks Gwen and Holly for your patience.