Yesterday I travelled to Hull to provide a wet plate tutorial for Sam Cornwell, a photographer from Portsmouth, he had already had a taster session at the Bristol Festival of Photography last month.
Weather reports had been pretty dire and we were ready to shoot indoors with artificial lights. Sam and his wife Beverley, also a photographer, were staying at Bevs parents house for a few days. I think I was more worried than Sam about any silver nitrate stains on the floor of the fantastically improvised darkroom/bathroom. Luckily, when I arrived the sun was out and we made the most of it.
Hers some digi snaps from the day…
Sam opted for the full safety gear and rightly so.
Bev getting ready for the first plate, Sam wanted to concentrate on shooting 5×4 ambrotypes with his own camera at first.

Here we go. First collodion pour of the day… there were a couple of short pours but he soon got the hang of it.

Some of the results.

Moving on to 5×7 and wholeplate…

… and some cracking plates.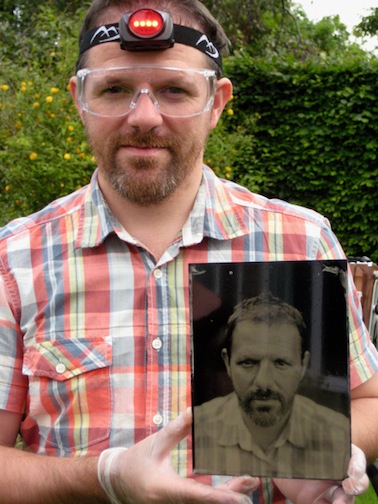 Sam was really pleased with this one, and rightly so.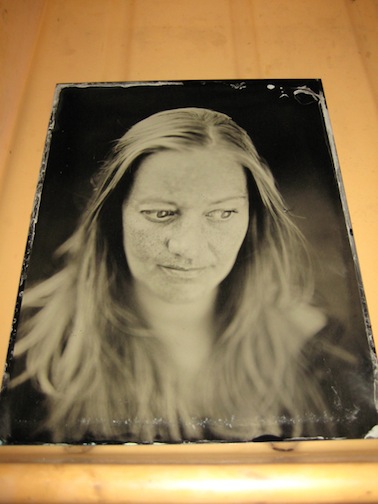 Having done some great wholeplates and some 5x7s we decided to up the ante to 12×15 inches.

And on to the dreaded varnishing. Look at the concentration…

… didn't last long did it…

… but the results were some well varnished plates.

Varnishing the 12×15 was a challenge.

So in one day Sam managed to shoot over twenty plates. Some got wiped, cleaned and re-used.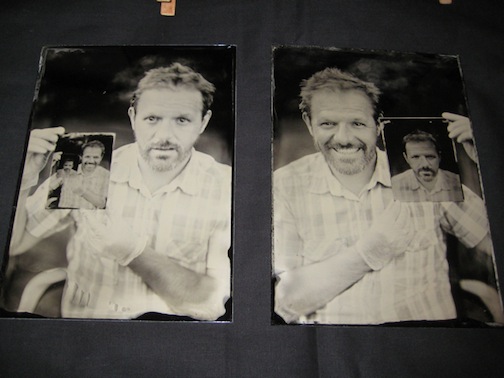 I hope Sam and Bev had a good day, they seem to have an infectious enthusiasm to all forms of photography. I look forward to seeing how they do with the wet plate addiction.
If your interested heres Sams blog… clicky click here.
Heres a quick vid of the 12×15 getting fixed, sorry its not high quality…
and one of that great whole plate getting a fix…