Last Saturday I travelled down to Peterborough with Mark Voce and Mark Scholey to visit Tony Lovell at his new studio.
He had offered an open invite to his friends and members of the UK Collodion Facebook Group in the form of a wet plate social gathering. Plenty of tea, coffee, sarnies and cake.
It was great to see some old friends and meet some new ones.
The past two years I've put on a winter wetplate social, I was grateful to Tony for offering this year as my place is nowhere near as organised and professional as this… Now, thats a studio! It even had heating!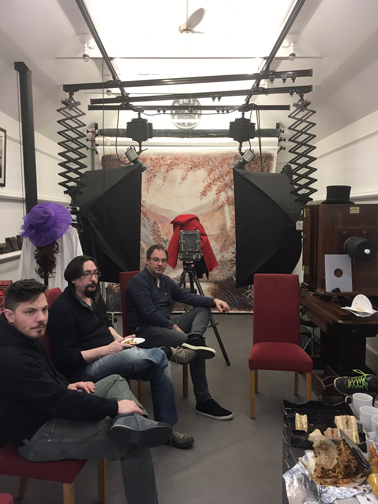 Extra thanks to Helen for the amazing cake. It didn't last long.
Ooo thats a big light… Mark and Stephen wondering when the strobes were going to pop!
Stephen, Kevin and Kristof…
Not sure what they are laughing at….?
Oh yes…. this.
Kristof putting on his game face.
Kevin showing Kristof the ropes. There were excuses and "reasons" aplenty from everyone. The Big Book of Wet Plate Excuses just keeps on growing. I'll be on to Volume II in no time.
Off to the pub afterwards for a pint and some grub before the long drive home. (Thanks Mark S for driving)
And a big thank you to the host, Tony Lovell, for an enjoyable day.