I'm sure this topic has been discussed many times before but it came to light again recently.
It seems standard practice for some dealers to break up collections and printed works to be then be sold on individually. Whether you agree with this practice or not ( I do not) can be discussed till the cows come home, I believe these things should be kept together at every opportunity where possible.
Recently I've been on both ends of the dilemma.
I recently purchased a framed over-painted portrait of a male sitter but had been outbid on its accompanying female portrait. I was a little annoyed at myself for the oversight, so I contacted the seller to see if they would put me in touch with the other buyer or would pass on my details. Lets just say they were not helpful and just a little sarcastic in their response.
Then days later I get a similar request from a seller that I had bought a small overpainted portrait from a few months ago. It had been sitting in a drawer at the studio and I hadn't got around to blogging about it. It turns out that this print is part of a small archive of family portraits relating to the Palmer Family and the other buyer would like to see if I was willing to reunite it? Of course, excellent idea. I asked if he would like to contribute to a little blog post about it and the other images from the family.
Further info below from Jason Wright, the other Buyer.
"The daguerreotypes were taken in around 1843 at Richard Beard's gallery in Bristol run likely run by Henry Vines. They are quarter plate in size, have the rare blue lined paper mats, have the rare Beard Patentee japanned frames, have the rare brass quarter plate 1841 Wharton Pinchbecks, have named important sitters, and finally have the singularly rare Beard Bristol Red Labels."
Samuel Palmer (1778 – Feb 21st 1850) of Dulwich Common, Bristol:
Husband of Mary Hinde Palmer and father of MP John Hinde Palmer. He was a QC (Queens Council – Victoria), Magistrate (who worked with the House of Commons) and was Deputy Lieutenant of the County of Surrey. Buried at Norwood Cemetery, London.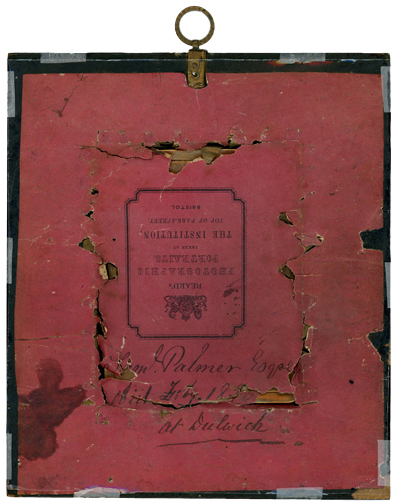 Mary Hinde Palmer (? – 1864):
Wife of Samuel, mother of Member of Parliament John Hinde Palmer. Born? Died on 4 March 1864 in London and buried at Norwood Cemetery, London. Daughter of Luke Hinde.
MP John Hinde Palmer (1808 – 2 June 1884) was an English barrister and Liberal Party politician who sat in the House of Commons in two periods between 1868 and 1884. He was called to the bar at Lincoln's Inn in 1832 and became Queen's Counsel in 1859. He was a J.P. and Deputy Lieutenant of Surrey and Bencher and treasurer of Lincoln's Inn. Palmer stood for parliament unsuccessfully at Lincoln in 1857 and 1859 general elections and at a by-election in 1862. At the 1868 general election he was elected as a Member of Parliament (MP) for Lincoln, but lost the seat in 1874. He was re-elected in 1880 and held the seat until his death at the age of 75 in 1884. Palmer married Clara Maria D'eyncourt, daughter of Charles Tennyson D'Eyncourt of Bayons Manor Lincolnshire. He died at St George's Square, London on 2 June 1884 and was buried at West Norwood Cemetery.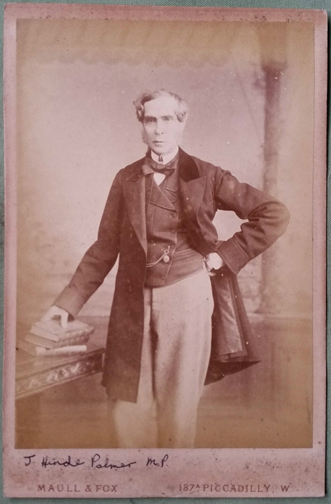 And this is the print I have (had), now back with the rest of her Family. Possible Mary Hinde Palmer.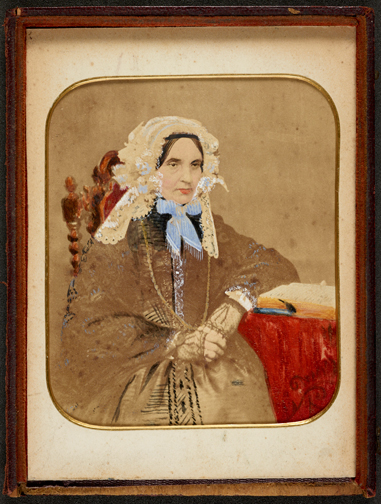 Now the big question is what does the new owner do with this collection? I was more than happy to reunite them, following a generous offer, but what is their future? Will they be sold off for a large ammount of money to a collector or another dealer? Will the new owner keep them together as part of his own collection? Is this something I should have asked in the first place and does it even make a difference whats to be done with them as they separated anyways?
Well, we shall see… Jasons commercial website, Silver Shadows. has many excellent examples of fine Victorian photography.
Thank you Jason for the blog images and additional info. Very interesting indeed.