As part of the DevelopedinBirmingham program, Argentea Gallery and I hosted a two day wet plate collodion portrait event.
It was booked via Eventbrite as 40 minute slots. Saturday was sold out and Friday only had two slot remaining.
All week had been glorious sunshine with high UV, by the Friday it was back to clouds so I set up some studio lights that enabled 8-10 seconds at f4/f4.5
I'd assumed it would be mostly single sitters but there turned out to be a large number of families with little children…. notorious in the wet plate world for causing havoc on a plate! Thankfully James sat perfectly still.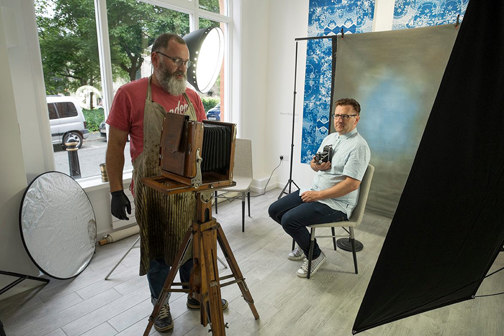 Image by Ray Spence
One of the sitters was a previous boss from when I used to work at Tyne and Wear Museums. Linda hasn't changed a bit.
Some of the plates from the Friday sessions.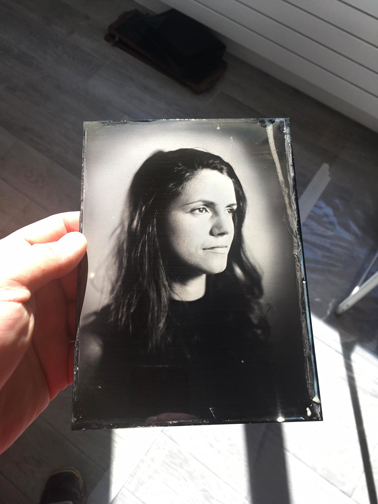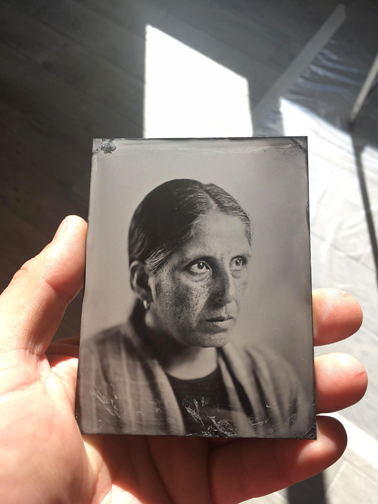 The big reveal in the fixer tank, everyone's favourite moment for sure. And I believe that is Michael Spencer Jones, responsible for so many iconic album cover photographs, looking on as a plate appears through the fixer.
As I was so busy on the second day I hardly had chance to get any digi snaps of the plates. Here's David, he was kind enough to let me use this one from Twitter.
I think everyone was happy with their plates (even if I wasn't) and enjoyed seeing this historic process first hand.
It wasn't just me shooting portraits of the visitors. The camera was turned on me on more than one occasion. Thanks Peter Barton for this great one, lovely to chat with you and thanks for calling by.
By 19.00 on the Saturday I was exhausted and I think I slept most of Sunday.
Thank you to Jennie at Argentea Gallery for keeping me fed, watered and parking fine free! It came pretty close.
Thank you to Jo and Paul for putting me up on the Friday, much appreciated.
Note to self: I need to take a serious look at the dipper in the silver tank as its leaving a residue line on all the plates. The plate holder need revarnishing as they are now in a bit of a state. My silver bath also needs a major overhaul, and is now sitting on the studio window getting sunned for two weeks whilst I'm away sunning myself.