On Saturday Lynne Connolly came to the studio for a wet plate tutorial.
Lynne is a photographic artist and Tutor at Chester University.
She shot a variety of plate sizes and substrates on a number of different cameras, quickly getting used to collodion pouring and eventually with developer, getting good coverage on 12×15 inch plates!
Lynne with the Watson whole plate studio camera.
A 5×4 tintype of yours truly.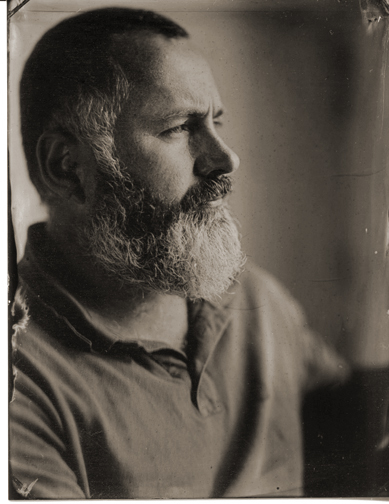 Half plate tintype of Cath taken on the sliding box camera.
Sliding box camera set up for still life/room shoot. Time to repaint the floor I think!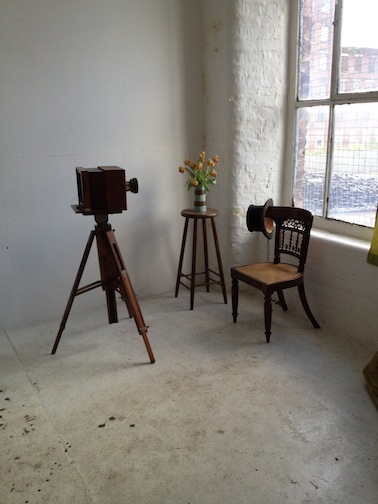 Lynne also brought along her 5×4 camera to make sure it was good for wet plate when used with a suitable plate holder.
A lovely quarter plate tintype.
Time for some 12×15 inch plates.
Go big or go home! I offer the 12×15 plates as an optional extra to any student willing to have a go, by now Lynne was more than competent at collodion pouring and dev'ing, she produced some lovely plates on the day.
The Hunter Penrose in use.
The resulting 12×15 inch tintype.
We had some early chemical issues that took some solving. The first demo plate that I shot came out fine, then every plate that lynne shot after it came out fogged. It took several plates to work back to the silver bath, once changed, we were back on track. A little weird as the first plate had been just right!? Both silver baths having been used perfectly in a previous shoot. Sg and ph were correct. I'll look into it further one evening this week.
Thanks for your patience Lynne whilst I figured out the silver bath was at fault.
Update:
Tested the problem silver bath yesterday and it now wants to play nicely. So I can take it off the naughty step for now….