Well its been a week since I've got back from the 2015 European Collodion Weekend at Eindhoven, Holland. Over 40 International collodion wet platers talking, showing and shooting wet plate.
Attending the weekend is one of the highlights of the year. I get to meet lots of old and new friends, see what everyone has been up to, have a few beers and just generally devote time to wet plate collodion and having a relaxed time.
This year Mark Voce and I travelled over together on the Thursday, as the event was three days instead of two, with the purpose of giving more time to chat with people as well as shoot. A great idea that worked well.
As usual the weather seemed to play havoc with most peoples chems. The last two years it took a day for everyone to get acquainted to a different shooting environment. You wouldn't have thought it would be that influential but it certainly seems to affect the resulting plates.
This year was no different. The Friday was very hot (I got sunburnt), Saturday was very windy (one tent ended up in the trees with someone losing an ammount of silver nitrate and some glassware) and the Sunday was lovely and sunny again. As usual the temperatures in some dark tents became problematic with development. My first few plates were very messy indeed around the edges. Dev was diluted but only minimised the problem slightly. It wasn't until the Sunday that the problems smoothed themselves out for me.
This year I took along my untested sliding box camera with the early ross lens. The pencil marks on the ground glass could be more accurate as a couple of portraits weren't quite as well framed as I had thought, so I had to allow for that in later plates
I didn't manage to get iphone snaps of all of them but heres a selection of some of my plates. 1/4 plate tintypes/ambrotypes. Maybe a small copy stand next year would be a good idea.
My first plate … "Wilhelmus" – he must have loads of plates of himself by now!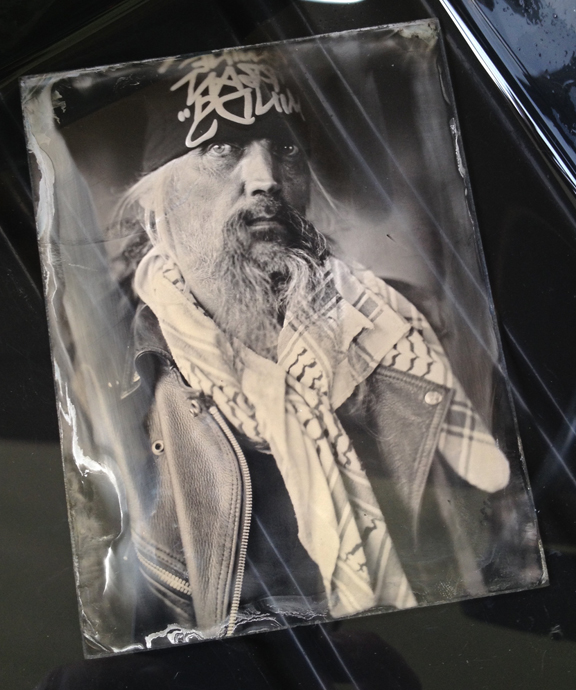 Sevilay Maria Van Dorst – I like this plate, even with all the silver deposit mess.
Exposures outside the main tent were 1/15th at f4 so we kept ourselves under canvas for the majority of portraits. Exposures of around 2 seconds with a reflector.
Another of Sevilay, this plate was under exposed and over dev'd. I still have the problem where I cannot see a tintype develop. I can see clear glass and black glass no problem, its just on trophy aluminium I cant see a thing until the very last second.
Although how I managed to under expose the Ross lens at f3.6/4 on such a bright day I have no idea… must have been those slow Dutch seconds compared to the English standard.
Marc De Clercq
Christian Klant – that Ross lens is super sharp with a lovely fall off.
Sú Wolfsdóttir
This was my favourite plate of Arold van de Aa.
On the Sunday afternoon there was a group of Civil War re-enactors. Yes Dutch ones. They were very happy with their plates.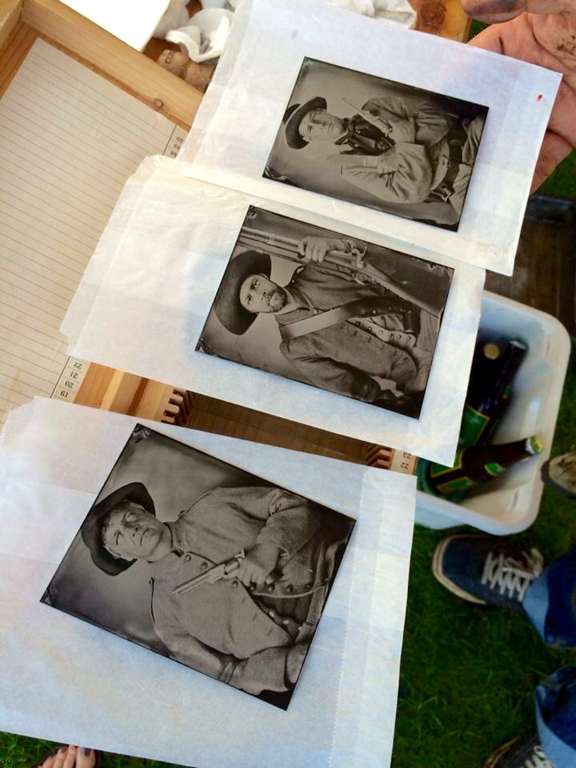 This plate was a shame as she had a lovely smile, a huge wide brimmed hat and a bright blue dress.
A dodgy batch of aluminium resulted in this weird manufacturing stripe throughout the plate. I shot another for her, of course, from a different supply.
A huge thank you to Alex Timmermans for all his hard work in organising yet another successful event. Also thank you to Mark Voce for driving this year, much appreciated.
It was great to see everyone and thanks for a lovely weekend. See you all in 12 months.