Two framed tinted albumen prints by James Arthur Langton. I didn't buy these for the actual photographs but more for the printed details on the reverse…
Mr Langtons Original 12/6 Club "Parlour Portrait"
Produced at his "Standard Studios"
309 & 307 Euston Road, Between Tottenham Court Road and Portland Road Station Metropolitan Railway.
Over the Hosier's and Printers Shops
And at
369 Edgware Road, Maida Vale, Opposite Princess Street.
Notice:
Extra Copies of this Picture can always be had at 10/6 each. Cabinets, 1/6 each; and Cartes de Visite 2s. 6d. for six, or 4s. 6d. per dozen. Quote Negative Number when ordering.
Note – The Low Prices Are To Club Members Only.
Any Person, Male or Female, employed or acquainted with a number of persons can easily form a club, and thus fill up spare time profitably. Call or Write for Full Directions how to begin.
We want Agents to work our Clubs. Send for Terms.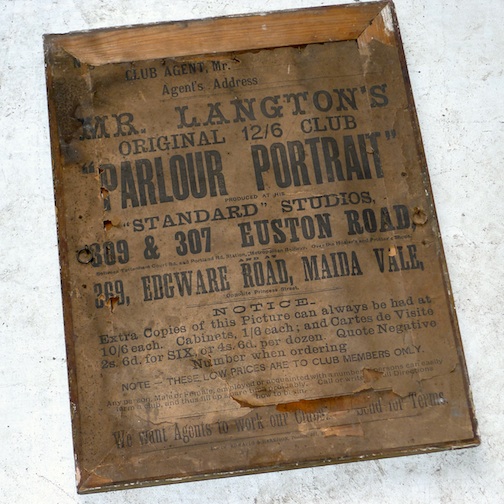 About A3 size on reverse, very fragile.