First lot for a clear out of the studio to make a little space and raise some funds.
My trusty workhorse 5×7 (13×18) tailboard camera with three plate holders. Lens panel is plywood. This is "for use" camera not a museum piece.
Plate holders have been varnished but used with wet plate collodion so there will be staining and a little corrosion.
Bellows have some taped repairs.
Brass waterhouse slot Petzval lens, no sleeve etc. I friction mounted it. About 6.6 inch Focal length and f4.
The odd bubble in the glass.
Unusual Berlebach wooden tripod
Has green felt top or an additional wooden table top.
Vintage Bovril Box…
Charles Burr Petzval lens with flange. About 6.5 inch focal length and F4 or maybe faster.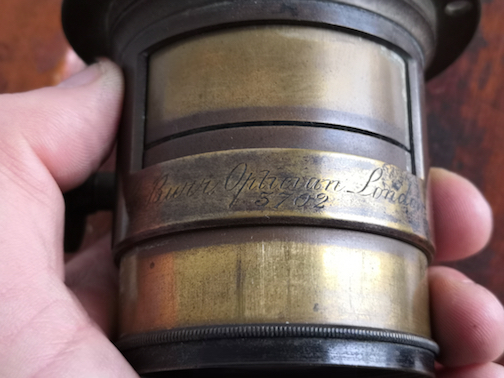 Big bags of chems. D76 dev and Hypo clear. Out of date unopened 2014 I think.
Falling plate camera.
Multigrade filters (three sizes)
Half Plate Lancaster camera with waterhouse stop lens with f8 stop included. One plate holder.
Job lot of bits???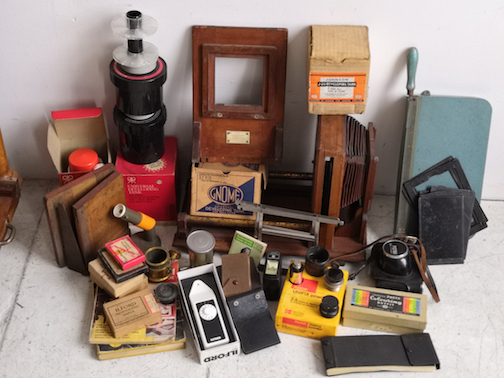 Brass landscape lens f11 – f44 about 5.5 inch focal length
Unnamedn Petzval lens with flange and f6 waterhouse stop, but maybe f4.5 wide open. About 6 inch focal length.
Slight damage to side of one set of glass, I didnt even realise till I took it apart.
This brass lens I have never been able to focus, four glass elements, Ive tried every combination and no luck.
Un-named 13 inch f4 brass Petzval lens. Looks a little battered but works really well.
Some lens separation.
Whole and Half plate back camera project.
I have the bellows if of use for measuring for replacement.
Ross Epidiascope. Around 17 inch f4/f4.5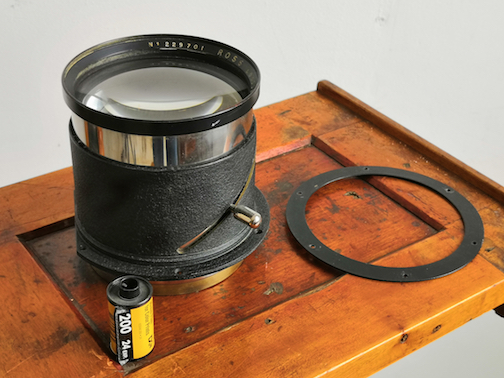 Thornton Pickard shutter as seen…
Heavy duty camera stand. Needs a good scrub and clean up but its all there and solid.
The rust looks a lot worse than it is honest.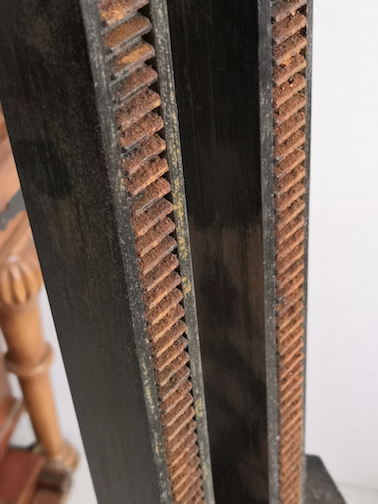 Houghton Butcher MFG
Crank still works very well.
Job lot of wooden tripod legs. Mixed lot. Some damage.
Some damage, missing screws and historical repairs.
Two small sets of waterhouse stops and cases.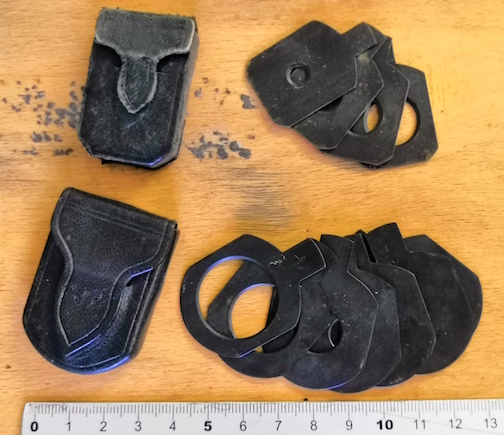 Whole plate camera, has been refurbished by previous owner. No plate holder.
Please look at the pics, they are used items, not show pieces.
Please message me for any details, I'm going to assume most of you looking have a rough idea of what these things bring on Ebay etc. Make me an offer to save me the Ebay fees.
Willing to ship most of it but not things like the big heavy Houghton camera stand.