This weekend I managed to collect two brass lens flanges, kindly organised by Mark Voce, one of which was for the huge Dallmeyer 4B lens. I really didn't want to risk friction mounting it to a lens panel, so a flange was a necessity with a lens of this rarity… and weight. I wouldn't want it dropping to the floor or more likely through the studio floor.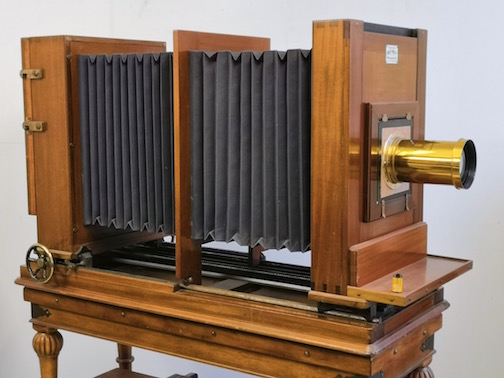 I couldn't wait so mounted it quickly on a temporary thick plywood lens panel for the Hunter Penrose camera.
I was surprised that two bellows sections wouldn't let me focus at infinity.
With the one bellows section I can still shoot full length portraits in the studio.
I also had a brass flange made for the Charles Burr 9 inch petzval lens whilst I was at it. I wonder what other of my lenses are in need of new flanges?
I've also been trying to source some kit that I need for photopolymer gravure.
I tend to look online, usually Ebay and Gumtree but was having difficulty finding a print dryer. Then via Ebay I found this one less than a mile from me at a second hand seller that I'd forgotten all about less than a mile from the studio.
Professional Imaging Supplies, this place is full to the brim of all sorts of photographic equipment. Howard was very friendly and helpful. I was kicking myself for even forgetting it was there, I had gotten so used to sourcing stuff online that I had forgotten all about the independent local trader!!
I also took delivery of a Datacolor Spyder3 for making profiles and adjustment curves, two huge UV bulbs for the print down frame and an infra red thermometer.
I just have to sell this little lot now….