Last weekend was the first gathering of UK wet plate photographers at Ruberslaw Wild Woods Campsite near Denholm on the Scottish Borders.
Most people only knew each other via social networking websites and email so it was good to put a face to a name.
Early arrivals had already pitched their tents had taken the corks out of a few bottles by the time we got there.
So after a late night in the pub Friday night, we'll not mention the pub quiz, I guess Saturday was going to be a late start…

Lots of chatting and setting up before we get close to even starting…

I had varying success on the weekend, I did shoot some smaller plates but wanted to concentrate on shooting 12×15 inch plates for a change. Usually its 5×7 or quarter plate but I fancied a challenge.
Several plates were scrubbed off and reused, not that I'm tight, I just like to recycle.

My main problem was that the tripod wasn't up to the job. Whenever I pulled the dark slide out of the camera the whole thing would twist on the tripod mount, no matter how tight I had it. Very annoying, you spend time composing and focusing just to twist it all out of focus at the last second. Lesson learnt, a larger tripod is needed….
I kept four ambrotypes of varying quality. There was also one 12×15 tintype.
This one was under exposed and over developed so I'd quickly dev'ed and fixed it and threw it to one side as a frustrated lost cause! The lighting was a little awkward, deep shade and bright sunlight. Exposures were about 20 seconds at f4.5.
Although after printing a cyanotype from it I might just change my mind.
Clear Glass Ambrotype 12″ x 15″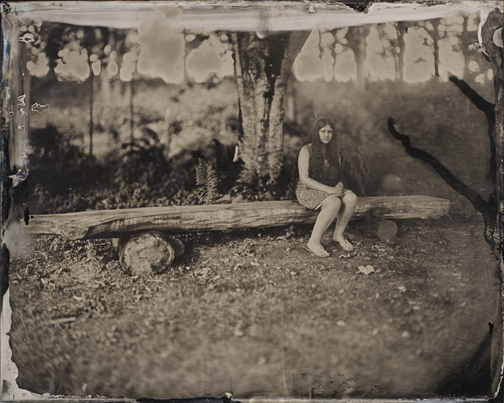 A crop, amazing detail even in this plate.

The cyanotype…

… and toned with Liptons Green Tea & Lemon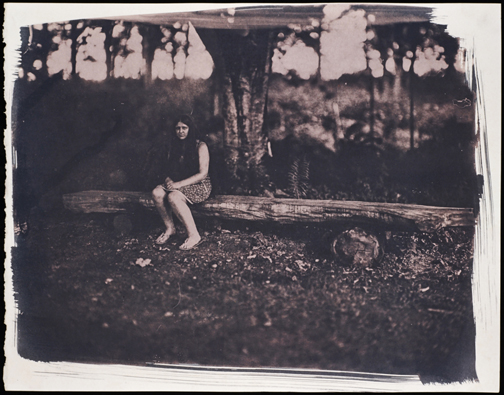 Things gradually improved, when I was developing this next one and taking it to the fixer tray I was thinking to myself "This ones looking good", until I saw the great big thumb? mark in the middle!
The greenhouse. Thanks to Tim for loaning me his spare Berlebach tripod, it made a big difference.

Clear Glass Ambrotype 12″ x 15″ F45 for 16 seconds.

Oops Cyanotype – Note to self – Let your cyanotype chemistry dry on the paper before you plate your glass plate on it! Mottled effect print, but where did the chems go? Oh onto my plate! Not good.
There was this amazing twisted tree at the campsite in the grounds of Spital Tower. Shot straight into the sun with lots of camera tilt etc. Its was well underexposed with some lens flare and a mark in the centre of the plate from a dodgy collodion pour to start with. I still like it though.
Clear Glass Ambrotype 12″ x 15″

Last plate of the weekend and the one I was most happy with. This one was f8 for 16 seconds, a pretty good guess.
In the greenhouse….

Clear Glass Ambrotype 12″ x 15″. This jpeg does the plate no justice at all.

A crop…

A cyanotype from the plate…

Simons darkbox tent was made up from a garden potting tray and an old festival tent. Genius.

He also tied a digital camera to a kite and let it fly above the campsite. Must get him to try this with wet plate!

Sam was shooting his 12″ vinyl discs. A great idea and the only ones I've seen.

Mark was shooting his ever so clean portraits.

Gordons tripod was causing him some problems as well, but then he was balancing a 10×12 inch camera on a 35mm tripod! A brave man.

Clan Carlin were much appreciated by the group. Their kids were constant models for all of us. They all had an excellent attitude. Marky Mask even put a show in.

That fire pit came in handy every night, it got pretty cold. Who knew Jelly Babies and Starbursts would taste so good toasted on an open fire!

Yassen provided a Lamb barbecue on Sunday. Mmmmmmm.
At least this time he brought all the kit.

Melanie was at hand for constant coverage to FB and video footage, and the wifi at the campsite was an added benefit.
There was plenty going on and I didnt get to digi snap most of it 🙁
I'd like to thank Mark and Sam for letting me share the dark tent and silver bath.
A few of us decided to stay an extra night on the Sunday. The long way home on Monday involved Melrose and Jedburgh Abbey, Hadrians Wall, Housesteads and Vindolanda Roman sites…
I think I've just about recovered.
Thanks to everyone for making this first gathering such a great weekend. I hope everyone enjoyed it as much as I did. I wasn't sure what everyone expected as it was pitched as camping, beer, eating, burning stuff with optional wet plate photography.
Plans are in motion for next year. There may well be two gatherings. "Oop North and Darn Sarth".
* Additional images taken by Melanie and Simon.