Back in March I was invited to contribute to a new TV show called "Time Crashers" made by Wall to Wall Media for Channel 4.
"Sir Tony Robinson presents the six-part immersive history series that sees 10 famous faces leave the 21st century behind and crash-land into different moments in British history
Its 1885 and the celebs are working in a Victorian fishery where conditions are harsh…"
I was asked to shoot some plates of the celebs. I was shooting wet plate but it was going to be made out to be dry plate?! I wasn't quite clear how many plates and what sort of poses. On the drive down to Woodbridge, Suffolk, I had visions of Frank Meadow Sutcliffe and his amazing work.
I had been booked into a lovely B&B and had gone to the pub for a bite to eat and a pint, settling in for the evening I got a call from the Production team letting me know I was expected at site for wardrobe/make up at 05.30!! So straight back to the B&B to let them know I'll not be having breakfast and will be checking out in 6 hours time.
The main production base was at the local rugby club, after a quick coffee and a bacon sarnie, I was kitted out with a very dapper suit and bowler, and a very quick trip to makeup for some beard wax.
A short drive later down to Simpers Fisheries. The only vehicles allowed on site for filming were the production crew van and my darkroom/car. I parked up behind a hedge out of sight of the cameras and at the bottom of a steep field. I wasn't expected to shoot any plates till 11.00 so I set everything up ready and went to the hospitality tent for another coffee.
Then the Heavens opened! And boy did it rain and rain…. and rain.
I was lucky to be in shelter, some of the poor crew were soaked through and freezing cold, trying to warm up in front of the a gas heater. After a few hours I was starting to feel pretty cold, especially in my Victorian leather shoes. One of the make up team asked if I had thermals on? Um, no, no-one had suggested bringing any, luckily she had spare long johns for which I was most grateful.
Several hours later it was time for some plates. It was wet, cold and windy. Where I had parked my car there was now a small river running underneath resulting in me balancing on a plank of wood.
There was no script and cameras were constantly filming from all directions. I was told, go down the banking, do your thing and come back out. Sounds easy enough right?
So, I walk down the banking and go to set up, as soon as I go to place the camera, one of the tripod legs falls off! The cameras are rolling, theres no "cut", all I hear is Keith Allen saying…. "Sent a bloody professional then!" I didn't know what to do with myself! Camera under arm, a tight pair of Victorian trousers and a tripod leg on the floor! The risk of splitting my trousers on camera was very very real! I don't think the British viewing public is ready for that yet!
I had taken along a whole plate camera, f8 lens and chems to make wet plate negs, not positives, as I was also asked to make prints before the end of the shoot. (I had pre coated VDB paper in my B&B bathroom the evening before).
For the Gents the exposure was 20 seconds, there was nowhere near enough light to expose for a neg so just went for a bright ambrotype to make print from. The plate wasn't too bad but somehow the camera had developed a light leak? Argh.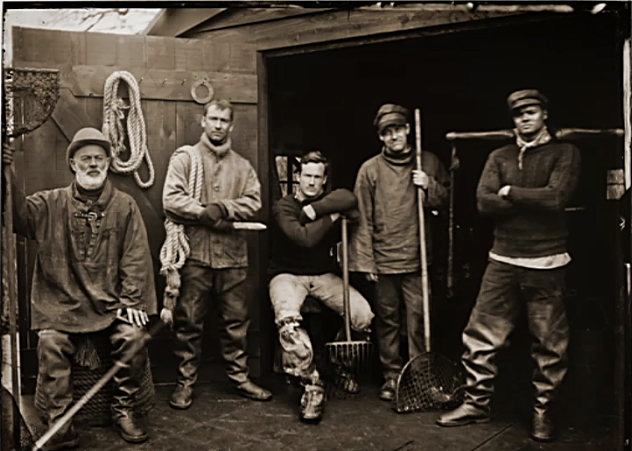 It was a good couple of hours later that I got around to shooting the Lady celebs. By now it was getting pretty dark and I just went with the same 20 second exposure, there was no way they could have stayed still any longer, being soaking wet and shivering with cold.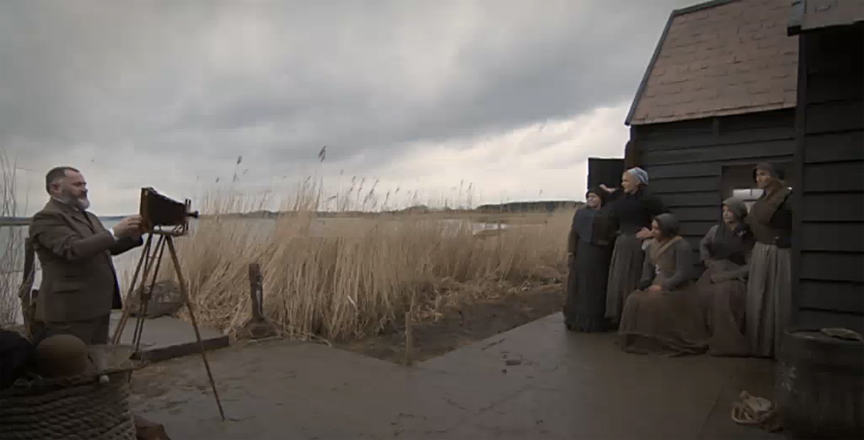 This was my last plate, I had poured two others prior and each time they weren't quite ready for me. I waited before pouring the final piece of glass. Then there was a sudden shout for me, I quickly poured the plate but dipped it way too soon into the silver nitrate, hence the swirlies on the top right of the plate! Also the camera had been moved slightly to the right in between me setting up and finally getting the plate, so the composition isn't quite right. And that light leak has disappeared?
I had been dreading how this would have been edited, would they leave in the tripod leg falling off and Keith Allens remarks. Looking back it is funny but at the time I was gutted. A little later Keith Allen asked "You were really taking a photograph? I thought you were pretending?"
It doesn't look too bad watching it on the TV, but it was so wet and cold, the crew and celebs did amazingly well considering. Although it was stressful it was great fun and very interesting to see how they put all this together.
It was after this job that the idea for a book project came to me… "The Big Book of Wet Plate Excuses"
Images are screen grabs Copyright of Channel 4