I'm still sorting through stuff for ebay after the first purge in aid of raising funds for that etching press…. nearly there.
This one I bought a while back with a mismatched back to the three plate holders that came with it. Now I wonder who I know with the skills to sort that out?
I was in no rush so this sat at Mark Voces Studio/Workshop for a while but I recently had it returned before ECW (oops Ive forgotten to blog ECW).
This is a Goertz Sliding Back camera for half plates. The little ivorine badge says Neue Gorlitzer Camera Werke – Gorlitz. Whether it started life as a sliding back camera I do not know, but thats how I bought it.
Mark replaced the sliding back entirely and made one to match the provided plate holders. The worse of which he made into the ground glass screen holder.
New sliding back with light seals.
The plate holders have tambour doors.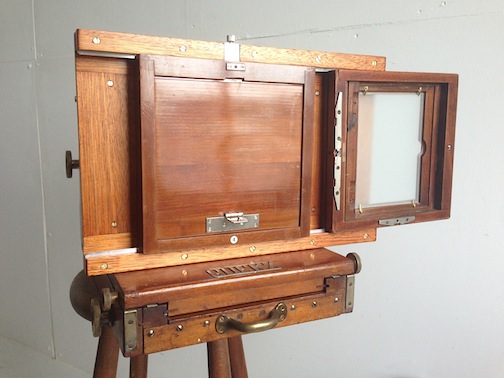 Two solid plate holders and a spare lens board.
Bellows extend very well and in perfect condition.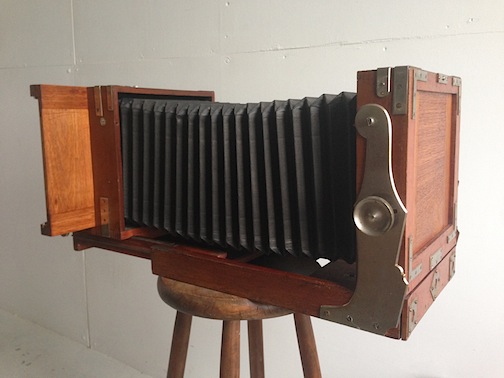 A cracking job Mark, thank you. I'll be keeping this one though.
Heres a Rochester Premo camera, the leatherette covering was rotten and falling off in big pieces and looked a right mess so I gave it the same treatment as I gave to my Kodak Brownie a while back.
The shutter and rubber bulb are still in full working order.
The bellows have been over covered in the past but are light tight.
Its Half Plate and I luckily have some Kodak plate holders that fit.
And I'd forgotten about this Criterion 5×7 camera! Its been fully refurbished by the previous owner, they have done a really good job. I have a Whole Plate version in pieces in a box somewhere I'm sure.
A Lancaster International Half Plate camera….. I need some plate holders for this. I only have one.
And I really like these with the hand cranked extension.
It folds up to compact size.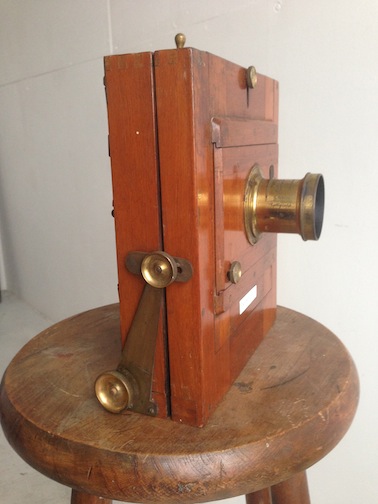 A lovely little Quarter Plate Wizard folding camera in case. In excellent condition but doubt it will see any use so one for Ebay I think.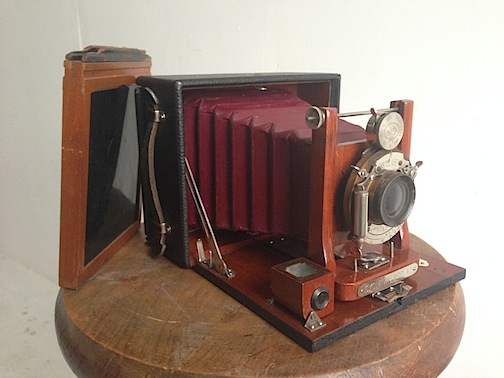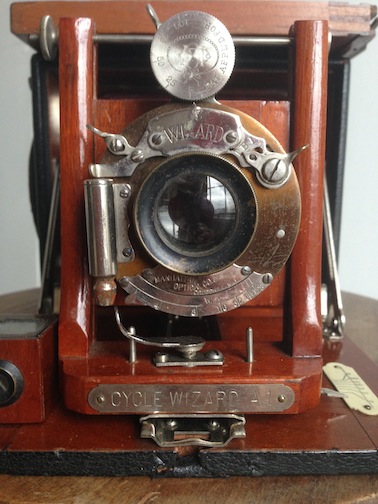 For some reason I have three other whole plate cameras… A Steroscopic Company, A Guy & Co of Nottingham and a no name version. Some of my spare whole plate holders fit these but the Guy& Co one is a weird fit/size.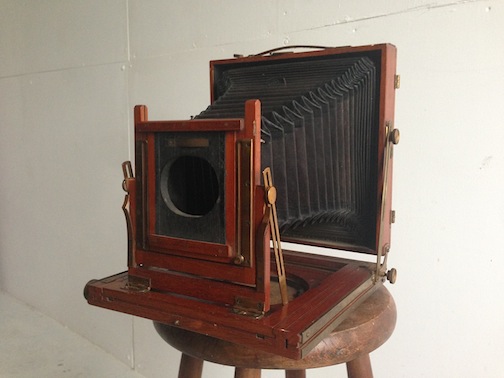 I did have this Copy Camera on eBay but it didnt sell, and I'm kind of glad as it only needs a little work to get it back on its feet…. Mark!
Its 10×12 inch. Has all its parts apart from the base for its to slide along. It even has its plate holder.
So to Ebay or not To Ebay? That is the question!