Well its been a week since the 2022 UK Collodion and Alt Photo weekend. It just keeps getting bigger and bigger. We are going to need a bigger venue at this rate. Thanks to Ray Spence for organising Guys Cliffe House, Warwick for us again for the fourth year in a row. Appreciated.
This year I think we were about 24 photographers and artists in total over the weekend along with partners, children, friends and dogs.
Its very much a social event with as much focus on photography as you like. This year there was wet plate collodion, large format film, colour reversal, cyanotype, lumen printing and chemigrams galore. We had participants from Finland, lovely to meet your Raimo and Nina. Sadly Cliff and Andreas from Germany had their flight cancelled last minute. And Indra from the Netherlands had a nightmare on the way where her Leica gear was stolen from a cafe in Belgium. Fingers crossed she gets it back.
I think I managed to shoot a few more plates than last years fiasco. Last year was just fogged plate after fogged plate. This year the first test plate was spot on and it continued until the last couple of plates on the Sunday but by then it was time to start packing away.
Dmitry had brought along a quarter plate holder that he had designed and 3D printed, it still needed magnetic back holders fitting but he asked if I could shoot a couple of wet plates with it to see how it performed. Well, I poured, he shot and Nasir posed. So a group effort. The plate holder performed admirably.
This slideshow requires JavaScript.
The week before I picked up a brass lens at an antique fair that had been mounted as an interesting paper weight. A 12 inch f4 lens by E M Clarke, Optician of 428 Strand, London. I believe before 1859. Needless to say I had rescued it with every intention of passing it on for sale at the weekend. On Sunday I shot a couple of plates with it out of interest. These are quarter plate tintypes. I'm loving the soft focus and bokeh at this distance, I guess I might be keeping hold of it a little longer.
Moo Pa
Raimo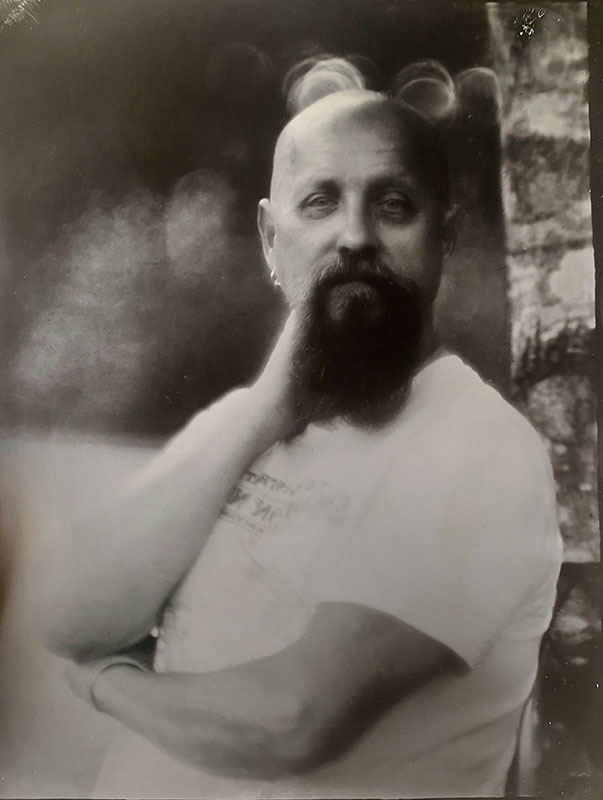 Sorry these were quick in hand mobile phone shots of the plates. Each year we talk about setting up a digitisation centre for plates at the event. I'll add it to the list for next year, along with taking some works to show.
The Friday night we used to go to a local pub for food and drink. As numbers have grown each year this has become more difficult, so most opted for a pizza delivery…
On the Saturday, Ray had arranged a BBQ and a barrel of beer, along with inviting some of his artist/musician friends and their friends for an impromptu gig for a couple of hours afterwards. They were amazing, I am always in awe of anyone who can play musical instruments like that. I'll not mention the dancing, Andrius but I do have several videos for later evidence.
And I have to mention Tony Lovell and his growing number of props that he brings to the weekend. A fox and raven were new this year. And his seaside cutout proved very popular… Here's, Kevin and Sue. No sorry, that Resuss Annie making an appearance!
This slideshow requires JavaScript.
It was great to see so many friends, old and new. It's not long until the European Collodion Weekend, I'll keep telling myself that each year….
I really should take more digi shots 🙁