So, I took a gamble, this was at an auction house near Ipswich.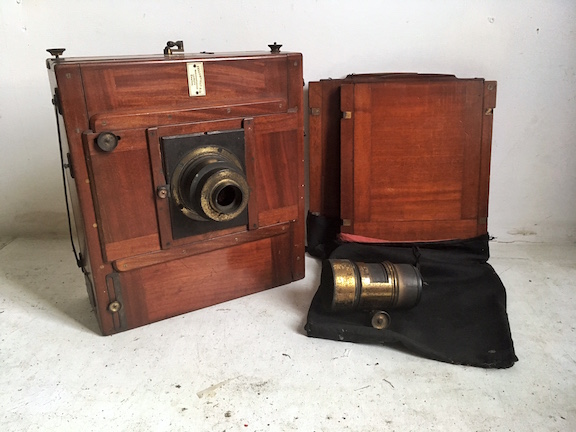 The gamble was it could have been a 12×15 inch tailboard camera, turns out its "only" a 10×12 inch tailboard camera. It came with two plate holders, a Grubb 18 inch aplanat lens and a Burr 8 inch f4 lens. For the price I cant really complain, but 12×15 would have been a pleasant surprise.
I was also concerned that there might not be a rear section to the camera as it was not imaged in the auction advert, thankfully its all there.
And that red bellows is pretty special.
Here it is on the Kodak Studio Camera Stand. Looks pretty good. Theres also decent rise on the front and some swing on the rear standard. Its racks out a good distance also. I'm not sure if I'm keeping it or if I'll sell it on. If anyone wants to make me an offer just get in touch. I might be tempted.
Whilst we are at it, remember the Kodak Studio Camera I jointly owned with JB, well after balancing our books its now living in my studio.
I'd also purchased a sprung whole plate back, it just needed fitting onto a panel to fit into the studio camera. Mark Voce to the rescue yet again. He took the half plate back and fashioned an exact copy for the whole plate back. It fits like a glove.
Thank you Mark, quality work as always.