Last weekend was the 2017 Phoenix Alternative Festival at Llanfyllin Workhouse.
Andrew, Patrick and myself attended last year, we had a great time and raised a little money for the events charities. We were invited along again this year and happily accepted
We were situated in the same courtyard as last year along with The Gasp Radio Interview Lounge, Ichabod Steam, The Time Travelling Tea Tent, The Grand Order of the Steam Hammer and Dave and Rosie with their amazing Teardrop Trailer.
This year we had a quick banner made up to give people more of an idea of what we were up to and not some digital reproduction. It reads "Ambrotypes and Tintypes – Authentic Victorian Photography – Modern Practitioners of Wet Plate Collodion positives and negatives"
The forecast was pretty poor for the Friday so Patrick set up an additional gazebo, which worked really well in the rain and sunshine.
My Manchester studio curtains were put to good use again, and Patrick even managed to bring a chaise lounge.
Patrick seems pretty pleased with himself. And rightly so. Some lovely plates were shot.
Andys first plate, setting the standard we should aim for all weekend. A smashing 5×4 inch ruby ambrotpe of Helinja.
My first plate of Rev JD Hadland – Quarter Plate tintype (J I have your plate)
Feline and Strange from Berlin….
… and their half plate tintype.
Patricks Stereo plates and viewers were very popular and effective.
We'll be looking at other photographic techniques and accessories for next year.
Here's Helenija and Constance trying out the owl stereo glasses
I know my eyesight is failing but I think this prescription is wrong!
Helinja Ruiter had such an excellent outfit, the attention to detail was amazing. There are so many creative people, bands and stalls at this event.
And also my favourite plate of the weekend. Half plate ambrotype. 24 second exposure as was getting late into the Saturday.
Half plate tintype of La Dutchessa – Theresia. Amazing skin tones.
Dru doing his thing before chopping his hand off! Well, sort of. Nearly.
Patrick varnishing his plates, not sure about the paper base though.
Who can turn down such a face… Go on, spend some money… all in a good cause.
Waxing and varnishing.
Loved this stereo of La Dutchessa.
Glamping! Yes, that Chaise Lounge had its uses.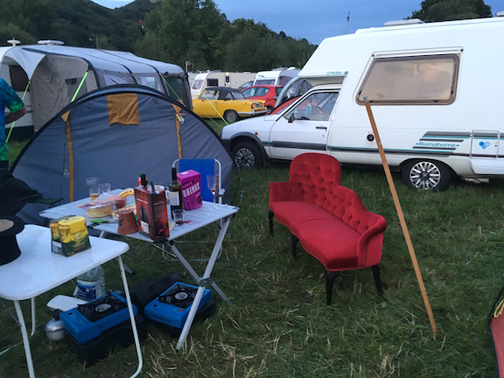 And yes that is a Samovar, quickly moved off the plastic table…. Thanks all for keeping us fed and watered. Good to meet up with Andys mates as well.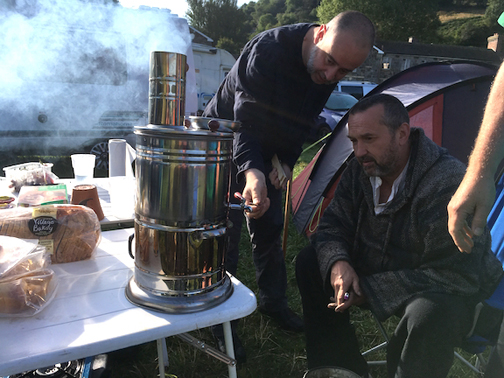 The courtyard stage in our area of the Workhouse was much busier this year, in part due to The GAsp Radio Interview Lounge and the many talented acts.
Titi von Tranz, GurdyBird, Miss Von Trapp, The Mediaeval Biatches, Ichabod Steam and many more.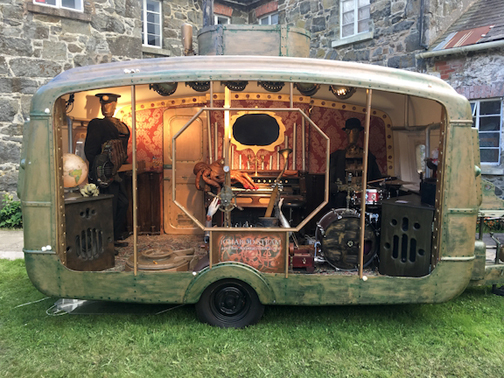 The Wattingers, a fantastic band and a lovely bunch of fellas, although you'd not think it to look at them.
Andy at work.
This was my first attempt, Patricks was better, I have a bright ambrotype which looks good as a negative, so just waiting to digitise that on Monday.
GurdyBird looking the part. 1/4 plate
The Gribble Sisters, amazing as usual. Patrick engraving details to the back of a tintype.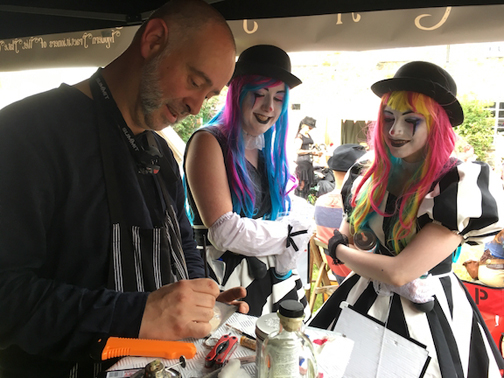 Constance and Ruud waiting patiently. For some reason each year I have found it difficult to get a decent plate of the two of them, I think maybe its because its the end of the festival and I'm pretty exhausted by then. Constance was one of my best sitters last year, wish I'd shot more of her this year. Sorry.
Although, that fails as an excuse when the next two and final plates I shoot of Helinja are pretty cool.
The Friday was a slow start, the Saturday was busy and the Sunday even busier. The same as last year. Although this year we raised even more funds for the two charities. The Workhouse and MIND. Links on both websites if you'd like to contribute further.
We didn't get to leave until gone 8 PM on the Sunday by the time we'd packed up and was pretty shattered by the time I got home, but I really do enjoy this event, lots of interesting creative people and great music. And next year we will try to get around the other stall holders and say hello, I realised on the Sunday we hadn't done so and that was an oversight on our part. Sorry.
Thanks to all involved and a big thank you to the organisers, Karin, Dale and the many others, see you all next year.