This weekend Steph and I took trip to Warrington Museum & Art Gallery to see The Shadow Catchers, an exhibition of local Victorian photographers. What a pleasant surprise. I'm a big fan of smaller provincial museums, they are a resource in great danger of becoming neglected and surplus to requirement. Far from the case in Warrington, this is a true hidden gem. What was most surprising and enjoyable were the historic cases/galleries and exhibited items. I think I only saw one digital gallery screen in our visit. Too many museums replace true content with buttons to press and lights to dazzle than have the actual items on display. Warrington crams a huge ammount into their limited space. We spent ages in the Geology, Botany and Ethnography gallery spaces. This to me is what a museum should look like. A true spectacle and adventure.
The Geology Gallery
The Ethnography gallery
The Botany Gallery upstairs.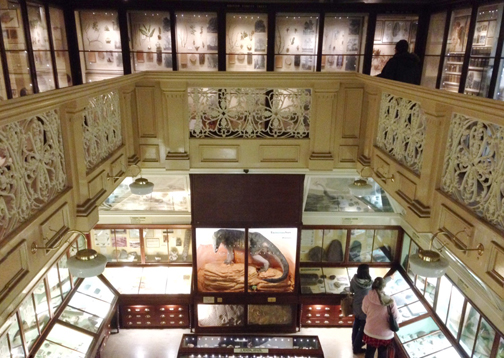 So, The Shadow Catchers. An exhibition about the Victorian photographers of the local area and changing landscape from the 1840's.
Again, well done Warrington Museum, a great exhibition of reproduction prints and original material from their collections. I might have to ask and go and take a look at what else they have hidden away in their archive.
You dont have to be from Warrington to appreciate this exhibition, there were ambrotypes, ferrotypes, collodion negatives and calotypes on display as well as original equipment, cameras and lenses.
Some of the Photographers original camera equipment. That big brass lens is a Ross Cabinet No.3 lens if I remember rightly. I wouldn't mind getting my hands on that.
Family albums, ambrotypes and Ferrotypes. I was glad to see 'Ferrotype' and not 'Tintype".
Calotype
Pastels for hand tinting.
One familiar image exhibited was this one by Oswald Garside of the Montparnasse derailment of 22 October 1895 .
Online resources credit a similar image to the Postcard publishing firm Levy & fils and secondary to a photographer "Kuhn" by another postcard publisher so it was surprising to see one attributed to local artist Oswald Garside. Although this version is slightly different to the well known one often used as a fine art poster.
My favourite image was this one by Thomas John Downs of hot air balloon enthusiasts attempting to take off from an Appleton field.
Theres also an accompanying book by Janice Hayes for £12.99 well worth the purchase price. Go see the exhibition if you get a chance, its on until March 19th 2016.
Hidden away in a stairwell were two photographs by Charles Dodgson. Better known as Lewis Carroll. There was little info with these two, wether original or reproduction? Either way I've always been a fan of his work however controversial it's made out to be.
Whilst you are there you should pop into the Fine Art Gallery and look for John Henry Woods. I hadn't realised he was from Warrington, his use of light and shadow in his work is amazing, go take a look.
Well worth a visit and a feather in the proverbial cap for Warrington.