Thank you everyone who came along to this years UK Wet Plate weekend at Llanthony Priory near Abergavenny, Wales.
The weather, location and participants were great.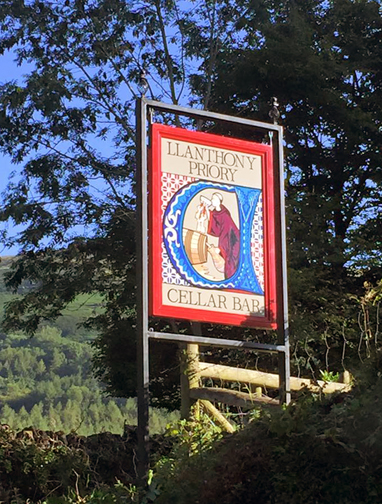 Thank you to Cordelia and Colin of LLanthony Court Farmhouse for allowing use of some of their land for setting up our darkrooms right next to the Priory.
We couldn't have been better positioned for access to the Priory grounds.
Some spots were more popular than others…
And some were for definitely for the more intrepid wet plater…
Gerald and a compact "Bastard Box" at work.
Michal knocked out some lovely plates.
Sam precision tuning…
Gerald putting his Polaroid Land camera to good use documenting Mark Voce with one of his wonderful wide angle plates.
The farm cat getting spoilt by Yvette. It was one busy cat, the mice didn't stand a chance.
The campsite is in a lovely spot, facilities are basic but it didn't feel crowded even though it was pretty busy. There was a Bikers 50th Birthday Part which proved quite lively and a little surreal with the Priory as a backdrop…. anyone get a pic of that?
Gerald brought along some US Moonshine which I'm sure led to a downturn in productivity…
… we used the hot weather fogging issues and moonshine as an excuse to sit in the shade.
The bar in the vaults under the Priory was put to good use by everyone. Thanks to Geoff the Barman and his staff for good ale and very good food. I'd go back just for the Abbots Beef 😉
After all the organising and stressing that everything would be okay for the group the last thing on my mind was shooting plates. Last year I think I shot three and didn't even write a blog post. This year I made a bit more of an effort as I wanted to brush up on my neg making.
A whole plate ambrotype.
Quarter plate ambrotype.
Same shot but a redeveloped wet plate negative.
And a Van Dyke Brown print from the one of the negs. I had coated a number of sheets a couple of days prior. I quite like processing in the field to see the results of the neg as I go.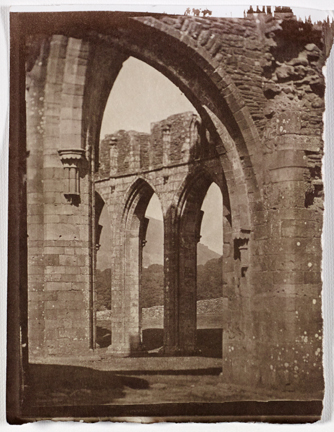 A whole plate redeveloped negative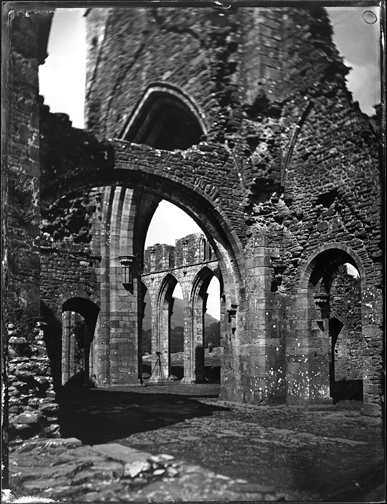 Who put that camera there?? I quite like it! A crop of the neg.
Van Dyke Brown contact print.
Whole plate redeveloped negative.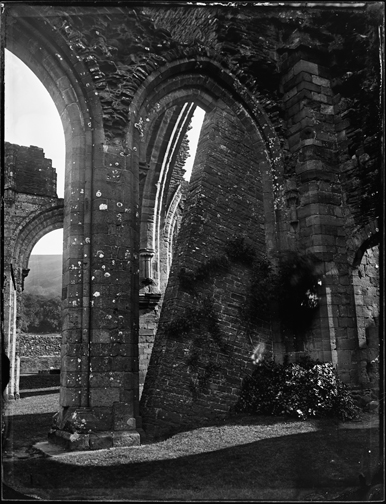 Van Dyke Brown contact print.
Not so good negative.
Last plate a whole plate ambrotype from a by now pretty soiled plate holder… reminds me to re-varnish the inside. And the limitations of a Tailboard camera were brought up again. I'll have another look at the spare whole plate field camera that I have at the studio.
Some VDB's drying in the sun. By mid afternoon on the Saturday everyone was having fogging issues, even my heavily restrained developer was having problems.
A Polaroid portrait of me by Gerald Figal. Thank you Gerald for the gift.
And heres a great little video made by Michal Drygalski
So, I think a very successful weekend was enjoyed by everyone involved. Thanks to those that travelled great distances in dreadful traffic to join in. And to Gerald Figal who flew over from the USA. It will be difficult to beat this one next year!
The amazing Header image kindly offered by Mark Voce, 10×4″ tintype, and thank you to Yvette, Sam, Andy and Michal for use of some of their digital images in this blog post.
Next weekend is the Lacock Abbey wet plate event. The same as last year but with a different group of photographers and a different date (last minute change made it impossible for some to attend) making it back to back wet plate weekends for some.
Sorry if you've not been invited this year, but it is limited numbers, so you'll be on the list for next year. Get in touch if you'd like to be involved.